(Translator: Rui)
Total lubricants China (TLC), partnered with Free Lunch Charity Foundation,announced last year on September 26 that the company would donate over 66,000 nutritious lunch to underprivileged children at Waxi Minzu Primary School in Xining, Qinghai province for a period of two years. AS a wholly -owned subsidiary of the Total Group in china, TLC embraces Total Group's corporate culture of social responsibillity Since the start of its business in China, TLC has been active in charitable activities in many fields,including children's education, community poverty alleviation; environmental protection and safety, etc.
To further help more underprivileged children, TLC activities a monthly basis charitable donation promotion in this year, again partnered with Free Lunch Charity Foundation.
The theme of the event is"Care for underprivileged children, Love the 'Total' way". TLC will take full advantage of its online and offline sales channels to raise money for underprivileged children in less developed areas, and plans to revisit Waxi Minzu Primary School on Sept.30.All money raised will be donated to Waxi Minzu Primary School.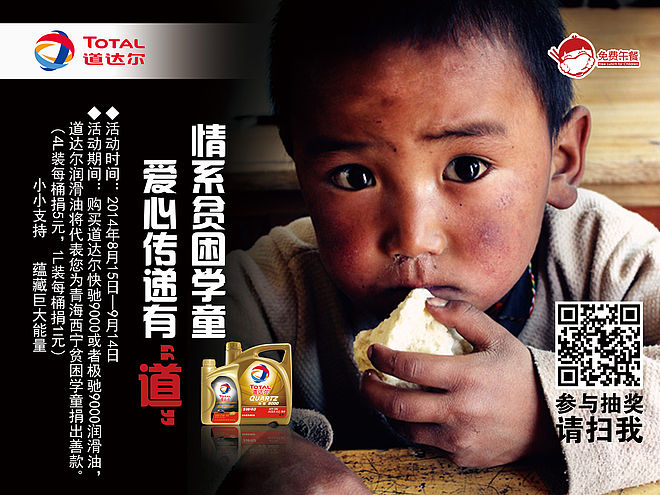 Event time period:
August 15 - September 14, 2014
Event details:
1.During the event, when you buy Total Lubricants in specific category, TLC will represent you to donate money to the underprivileged children.
2.Participation:
Online: Total TMALL flagship store (total.tmall.com)
Offline: Total Quartz Rapid Auto Center Shops (specific stores please refer towww.total-lub.com.cn/cn/quartz-rapid-auto-center.html)
3.All donations will be raised under strict supervision by Free Lunch Charity Foundation, and tallied and reported by TLC.
4.Donation usage: On September 23, 2014, Total Lubricants (China) Co., Ltd, together with Free Lunch Charity Foundation, will pass all donations raised by this charity promotion to Waxi Minzu Primary School in Xining, Qinghai Province. Activity details will be reported after the event.
5.Details of specific promotional products; For more information, please visit The Total Official Websitewww.total-lub.com.cn.