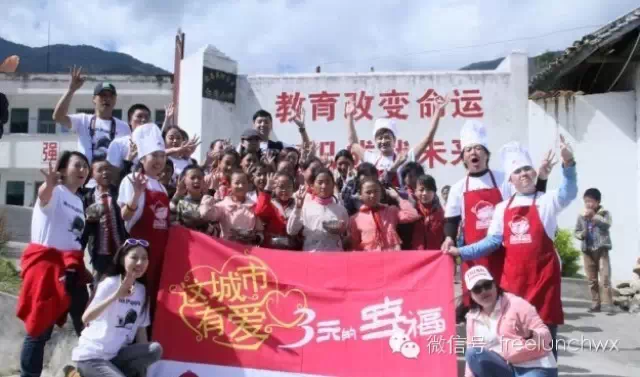 They are the children who live in a mountain,
only freezing potatos or corns in their lunch,
3 Yuan to us ,
maybe a long-distance call,
a bottle of Coca-cola, a trip of subway,
but to them,
happiness can't be expressed.
It only needs 3 Yuan,
a free lunch will be provided to children in the mountain,
it only needs 3 Yuan,
you are the happy angel to give a free lunch to the children.
The love in the city, 3 Yuan's happiness,
Free Lunch joined the love action with Bo Li,
CITYFM together to give the warm and love to
Ren Shou Primary School in Ayue Villiage of Dechang County, Liangshan City.
Mandarin strength singer Li Du,
one of Chinese top rock musician Qin Yong,
and famous clarinet player Wang Tao,
together went there,
Wang Tao and Li Du acted as music teachers,
taught children to sing folk songs,
hotel staffs and other volunteers,
gave the hairpins and candies and other gifts to the children.
After lessons, star volunteers acted as cook,
worked hard for children free lunch,
with the full love heated dishes.
"3 Yuan's Happiness Team" still gets larger,
the love will continue,
which brings the real warm to children with pure kindness.
At last, Can Niuniu will represent the children to thank Bo Li, CITYFM, Li Du and Qin Yong, Wang Tao and other hundreds of thousands of loving people make efforts to poor children in the mountain. Because of you, we can see infinite brightness in Free Lunch public welfare.