‍
‍
‍
‍
One night five years ago,my good friend Deng Fei called me to take photos of the primary school students in poor mountainous areas of Yunnan and do publicity for the Free Lunch public welfare activity.
I thought I was just going to get some photos.
But as I went on, I became a volunteer of practicing the Free Lunch
from simply taking pictures.
Carry a stone to cross the river, walk and explore all the way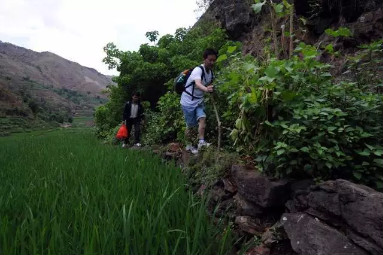 A visit aside the Jinsha River to a primary school
where there is no highway
The first visit to a primary school which practiced the Free Lunch
It was at 9 pm in the evening on June 6 then when I stepped into the faraway Tang De Primary School in Wudongde Town of Luquan County for the first time.
And at that time, the students have fallen asleep.
It was my first time at Tang De Primary School to do
on-the-spot investigation for the implementation of Free Lunch.
There was no reference experience since it was my first time to this school and the first time to do Free Lunch, just like groping stones to cross a river.
My master - the Spring City Evening News gave me support and
participated in it actively when they knew this public welfare activity.
So Tang De Primary School became the first Free Lunch school in Yunnan and I have been in charge of the Free Lunch activities in
Yunnan from then on.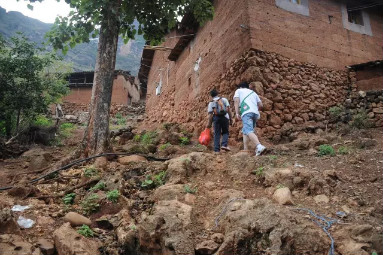 Volunteers were on their way to the primary school
At that time, I did not expect Free Lunch to be so successful, just like the rugged dirt road to Tang De Primary School to be a cement road
within only one year.
However,these changes are a sure thing in my camera.
There are no longer any scenes that they cooked in sweat under thick
smoke or they bore baskets that didn't match their young bodies.
These children should only attend school and they have finally laid down the burden that originally does not belong to them.
Volunteers were on their way aside the Jinsha River
to the primary school
Tang De Primary School is located aside the Jinsha River and across the river is Sichuan.
the reason why we chose this school as a pilot was that it had classes from grade one to four, of which most students live on campus and they have to carry living items from to school once a week for cooking on themselves.
Teaching quality of the schools there has always ranked ahead although they are in such difficult conditions.
So they have been honored many times by the local Education Department.
Visits, applications, preparation for school meals......
In order to make good use of every penny from charity donations, I have verified everything small as a bowl or a spoon place to place one by one with applications from those schools.
Ordinary iron bowl is cheap but maybe too hot for children while double stainless steel bowl is not hot but expensive.
Taking this and cost compression into account, I drove to a large-scale wholesale markets tens of kilometers away to purchase bowls.
The businesses thought my purchase amount was too small compared with bulk goods so they refused to make a deal.
Then I bargained as a
soft-spoken reporter and finally got the bowls at a low price.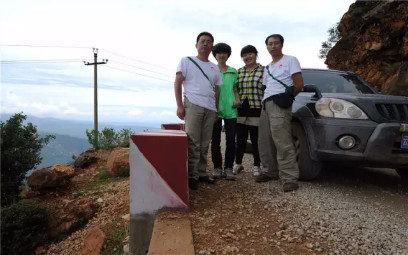 We were on the way to a primary school
which was the first to practice Free Lunch in Yunnan.
During the visits, a little Dai girl called Wen Na who was left behind by her parents caught the attention of the Fuji Secretary General
Xiao Longjun and I.
The girl had equinus and her parents were working outside, leaving her grandmother and she at home.
Little Wen Na had to carry daily necessities to school for cooking on her own.
Through our efforts, Wen Na got the help of the Western Children Public Welfare Organization and her feet were cured.
Volunteers in Yunnan knew Wen Na's birthday from her household register and that day was exactly the night before Wen Na's surgery in Kunming.
So several volunteers bought a cake,a backpack and clothes to give her a special birthday party.
The reason to say special is that only those who are over 60 years old have the seniority to celebrate their birthdays in local people's eyes.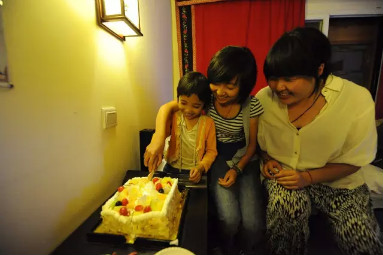 We were celebrating little Wen Na's birthday
Delivery and reward of love
The volunteers, my colleagues and I were having a visit to a school in Honghe in the spring of 2012, but our car was trapped in a bumpy dirt road.
As soon as the school teachers on opposite mountain heard about this, they began recruiting staff to help us.
In a few minutes, the villagers with hoes, children with stones were gathered together around our car.
Some dug while others carried stones to fill the road and then our car finally came out within half an hour.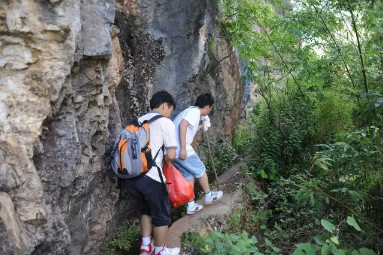 Volunteers in Yunnan were on their way to visit the primary school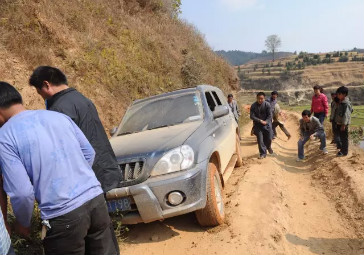 The visiting car was trapped in a small pit and the villagers
came together to help
All the love were rewarded in such situations beyond our expectation so was there anything that would make us tired or was there any reason that we do not hold on?
Their simplicity and kindness is the force to drive us and love is quietly approaching us when we are delivering it.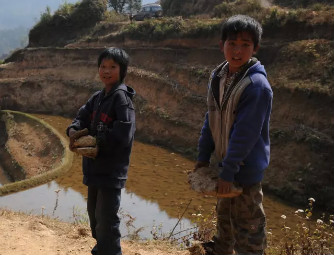 Children in the village were carrying stones to help
Three yuan for a meal
The implementation of Free Lunch is not simply providing a meal for poor rural children but making more changes to a person's family burden, a child's fate and their entire family.
One, two and three people...... The nationwide media, caring person and volunteers continue to join so the multitude collecting firewood
makes a high flame.
As more and more caring people participate in it, touching loving hearts have emerged behind every moving stories.
One, two and three yuan...... has become every meal full of love, which is sent to the children in poor mountains.
As the Free Lunch schools increase, children who can eat free lunch are also increasing and their weights are increasing. (A Free Lunch meal
rose to 4 yuan from 3 yuan as the inflation of prices in 2016.)
With the pattern of the first school, volunteers and I began to look
other primary schools suitable for Free Lunch in Lijiang, Wenshan, Zhaotong, Honghe, Dali so primary schools of Free Lunch gradually manifolded around Yunnan.
The Free Lunch gradually have a certain reputation in the public sector
through the promotion of media so a large number of charity funds
and materials continuously flock to the schools.
Due to the Free Lunch, I have become a participant from a bystander
and got an identity of a volunteer from then on.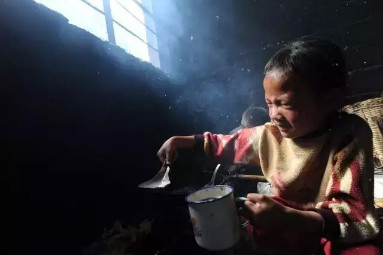 Thin and small Long Youfen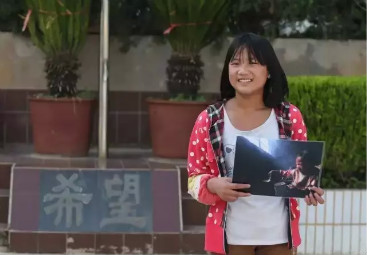 Long Youfen became a slim and graceful middle school girl
when we paid a return visit
The thin and small Long Youfen has become a slim and graceful middle school girl when we paid a return visit a few years later.
Little Wen Na who had equinus have been able to walk normally and the teachers say that she always does well in her subjects.
The Free Lunch turns out to be so meaningful and worthy of dedication.
I will persist in walking on the way of sending Free Lunch meals to more children.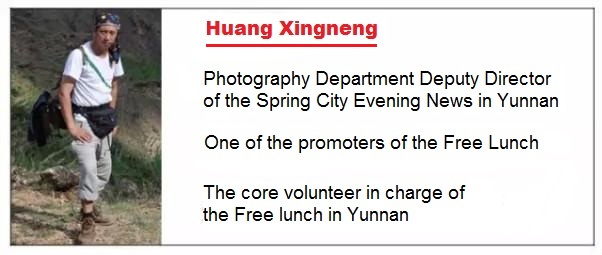 ‍
‍
‍
‍