the press conference
April 2nd, 2011, in a primary school of Qianxi County, Guizhou Province, we, a group of journalists, made the first free lunch for children. From the beginning, we could not bear children's starvation, but we opened a door by chance and we surprisingly found the value of action, unity and creation, which makes us believe in the possibility of changing China by soft.
These five years, with the help of CSWF, the participation of thousands of volunteers and the support of hundreds of corporations, we are luckily to generated fundraise of more 200 million by more than 6 million people. This makes us have ability to cooperate with some county governments and work for children together.
From the beginning with the first school of FLFC, we found a series of problems occurred in left-behind children. In order to solve these problems, the volunteers of FLFC form teams continually. So far, we have Warm Current, China's Rural Kids Care, Weibo Combat Child-trafficking, Protect Children from Sexual Assault, Movable Home and Children's Emergency Foundation these six programs. These programs are divided into four parts: children's nutrition, children's healthcare, children's materials and children's safety, which are supported by three eastwest trend high-speed rail from Shanghai. They connect the prefecture-level cities along the railway and then unite public welfare organization in county, establish the contract and serve for the children in rural China.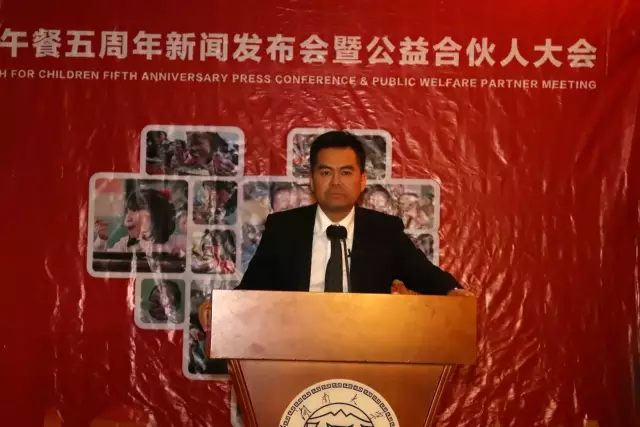 initiator of FLFC Deng Fei giving a speech at the conference
These five years, the number of rural school we have served accumulates to more than four thousand and the number of children accumulates to more than one million. We work hard, but we know well that we cannot solve all the problems of rural children on our own. Therefore, we open for some children organizations and share some channels to attract more power of public welfare. We also unite local Education Bureau, civil affairs bureau and other related departments to set up a platform of Chinese rural children united public welfare, which serve for rural children more comprehensively and more efficiently.
Here, we would like to salute those county governments cooperate with public welfare organizations sincerely: Xinhuang County of Hunan, Xinhua County of Hunan, Hefeng County of Hubei, Shitai County of Anhui, Huaihua City of Hunan and so on. We fight for children together and we are managing to set up a modern ideal model of tripartite cooperation among government, business and society, which can solve social problems of poverty area effectively.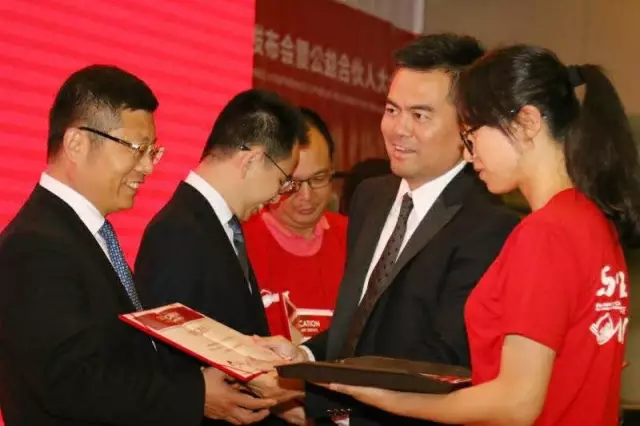 Deng Fei is isuing of certificates for national outstanding volunteers
We develop naturally from a lunch and now we fight for Chinese rural children, especially fight basic equality and welfare for sixty-eight million left-behind children. We begin to cooperate with law school in university. On one hand, we try promoting legislation for the welfare of Chinese children and solving the problems of rural children fundamentally. On the other hand, we explore a solution which mixes public welfare and business for the economic development of the countryside from helping children to helping their parents.
To be honest, we have met countless difficulty, but we never are afraid of that, because we are motivated by warm of other things. Those are the responsibility or mission we should have. If we make our great effort, a juvenile will obtain a equal opportunity to change his destiny by education and his effort, so that he will be become positive but not depraved.
I come out from a village of Hunan Province and I deeply understand the difficulty of changing one's destiny on one's own and the desire of equality. I feel fortunate that up to now, I keep the empathy of the pain of others and the capacity of love.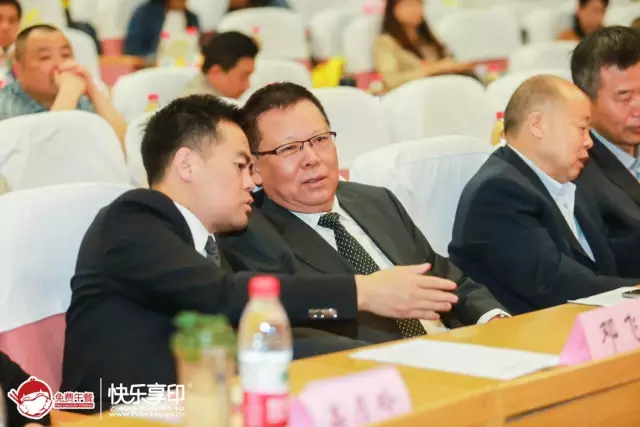 Deng Fei is communicating with CSWF President Mr. Wei Xuesen
It is well-known that the expenditure of Chinese public welfare industry is strictly limited. It cannot attract or retain professional elites for low pay. If we want to make a good lunch, we should jump out of old system and think more ways to explore and gain new power. From the beginning, we insist on transparency, open and accepting the supervision. We win the trust from the public and gain power rapidly with integrity, safety and efficiency. Later, we unite government and corporations to gather more resources and power. In the end, we dismantle organizational boundary, give up headquarters' centralization and motivate more freely central development of the local. We return more power to society; organize volunteers, donators and democratic governance. We are trying obtaining more power.
In 2015, we elected 45 national representatives of FLFC. At the same time, management committee and supervisory committee were constituted by election and they will operate according to FLFC regulations. We make great effort to realize the thought that all men equal, free criticism, democratic autonomy and legal operation. I quit Daily Management Team and will not intervene in practical affairs of FLFC. I restrain myself out of intervening in practical affairs and in turn provide some help.
What makes me proud of is that FLFC continually keep record of never have food safety incidents or fund security incidents. Even more striking is that, with the help of internet, the fundraising in 2015 increase 43% than that in 2014.
It suffices to show that it is a right decision to return FLFC cause to society. Equality, freedom, democracy and rule of law are not only socialism core values, but also the magic weapon that help us overcome difficulty and grow well. We will firmly guard these values.
2016, we launch 'public welfare partner' system to create new motivation. In these five years, the person whose donation accumulated to more 880 yuan (a child's lunch fee in 2016) will become the public welfare partner of FLFC automatically. Besides the right to know, the right to participate and the right to supervise, they also have the right to vote and the right to be elected. They can participate in related affairs of FLFC freely and orderly. They also can contribute themselves. Next, besides donation, we still quantify the time of donation and the ability to donation, which open the door further and expand the scope of public welfare partner. This will help us learn the wisdom from public as much as possible and it can also attract more people who are concerned with and contribute to FLFC to govern the affairs of FLFC.
We believe that FLFC cause will realize socialization, democratization, legalization one day. It can run institutionally by itself. And we, will obtain the Valuable nutrients in FLFC action.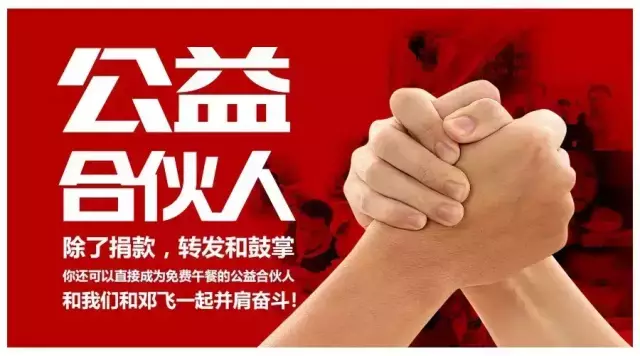 At last, I desire to tell all the people that FLFC is not only the lunch of children, but also the other kind of lunch for us. It is nourishing our ability, thought and ideology. It eliminates the confusion, depression and insecurity in our minds. It tells us a secret that if you have love, just take action and revolution will become realized.
It is really hard work, but we really feel happy, because FLFC is helping us learn how to solve different problems. We accept challenge and training every day and then we grow naturally and strongly every day. We firmly believe that, with the growth of ourselves, when we face social problems, except complaining, someone will take action; except contending, someone will change; except destroying, someone will create. Coalescing and connecting with various ways, we can find solutions by sharing and co-building, so that we can solve social problems one by one. We gain a better self and gain a better society.