Xiu shui county was called Fen ning in ancient times and was also named as Shang wang in chinese history. This county is located in the northwest of Jiang Xi province, the upper reaches of Xiu river which flows from west to east through Gang river into Poyang lake, and is between the Mu fu and Jiu ling mountains. With the average 16.5℃ of the whole year and the 1580mm of annual precipitation, there is enough sunlight in Xiu shui where the place mainly produces rice. As an important forestry county in the south, Xiu shui is a place with beautiful landscape and a remarkable place producing outstanding people.
Jing lin village is in the southwest of Xiu shui county. There are 3 villages including around 2000 people in Jing lin where at the distance of about 80km away from Xiu shui, 18km away from the country government, and 40km away from Zha jin town. Jing lin mainly produces rice and sweet potatoes. Here most young men go to the city to do odd jobs, leaving many children in home.
▼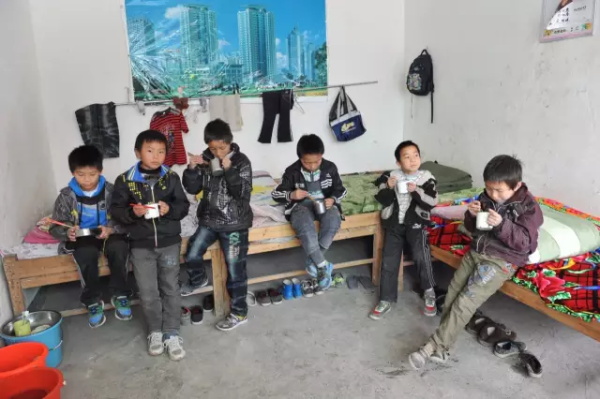 Teenagers in the village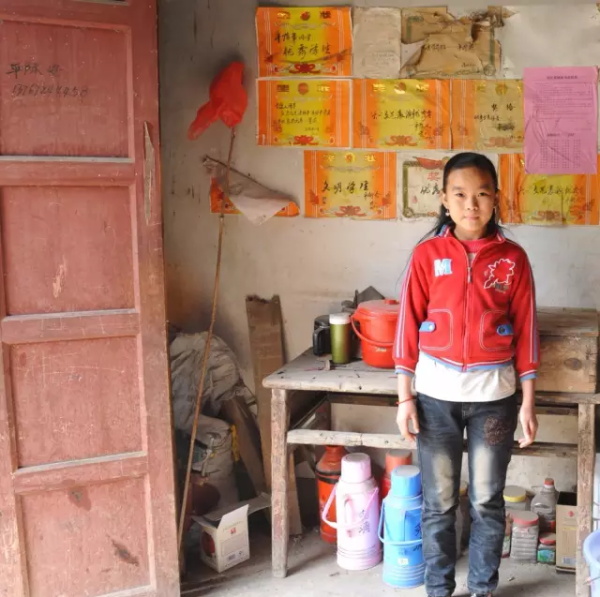 An outstanding student from a needy family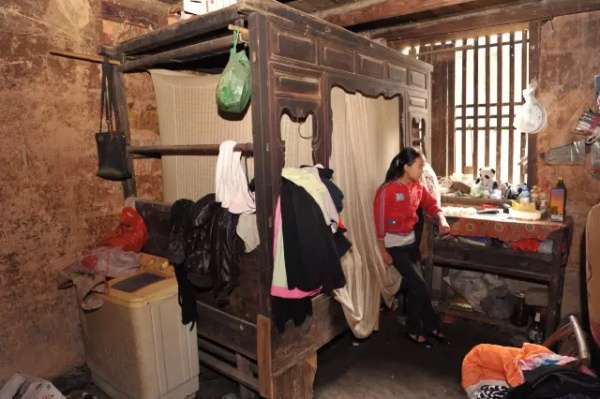 My home
Donggang xiang, Jinglin pian primary school that called Jinglin wan primary school before was set up in 1958. Originally, there were five grades from the first to the fifth. After China conducted nine-year compulsory education system, there added the sixth grade. However, the condition of classrooms was limited so the sixth grade was moved into Donggang middle school. Now, there are still only preschool classes and five grades. Because the school is in the remote mountain area, though roads here are even, the mountain roads are so zigzag and rugged that the transportation is quit inconvenient. Until now, there is no regular bus to the county, therefore people have to transfer buses in Zha jin town.
▼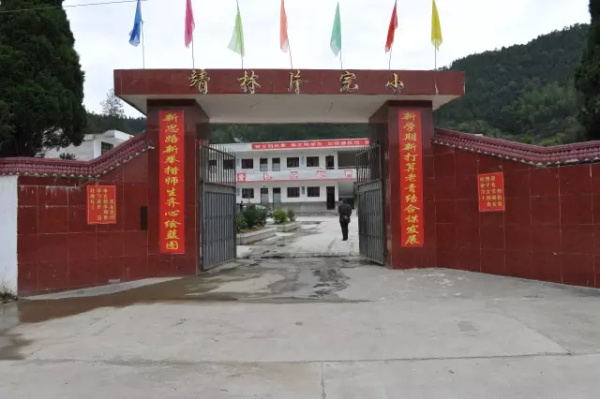 The gate of Jing lin primary school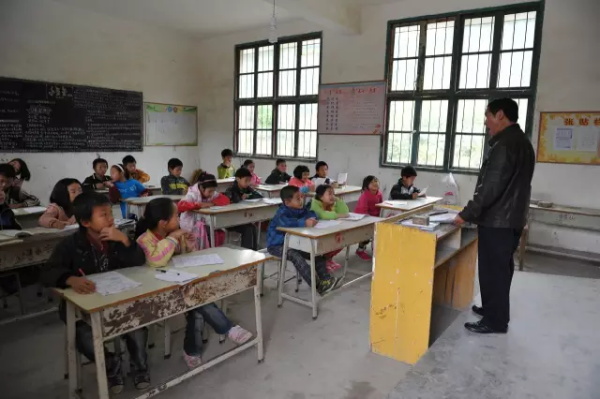 Children were having a class.
In October 24, 2012, our volunteers visited Jing lin primary school.
In spite of good facilities in the school, local people were still poor. What children ate at lunch was terrible. Some children had steamed sweet potatoes or potatoes, and the other ate rice matching chili sauce or rice mixed with sweet potatoes matching dried vegetable boiled in water. There was little nutrition of their lunch. Knowing that some resident students even had such meals for a whole week, volunteers felt painful.
▼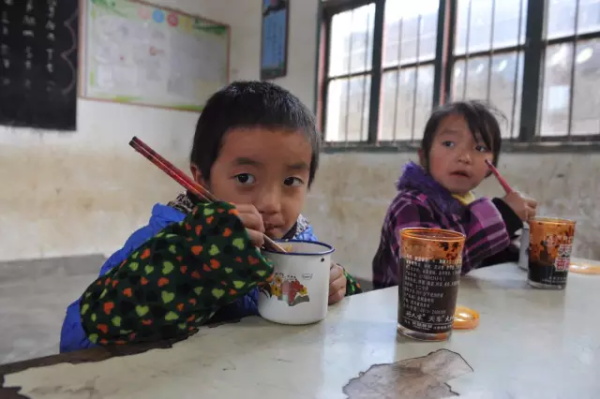 No other dishes, only rice mixed with chili sauce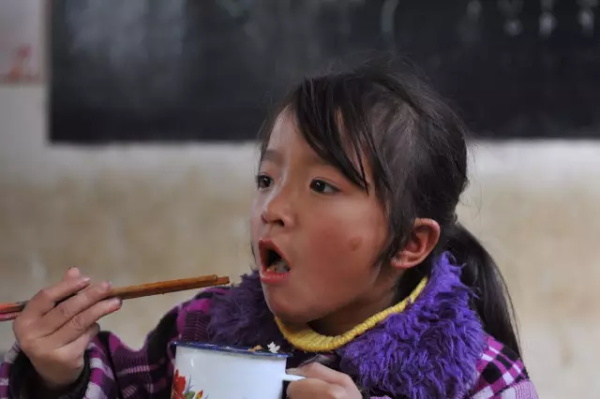 Too spicy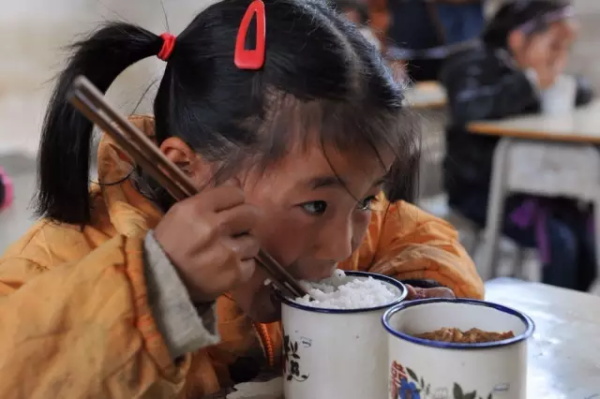 My luch, preserved vegetable plus rice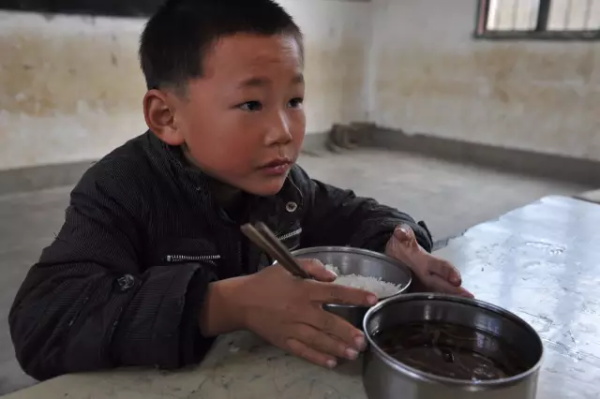 Poached dried beans and rice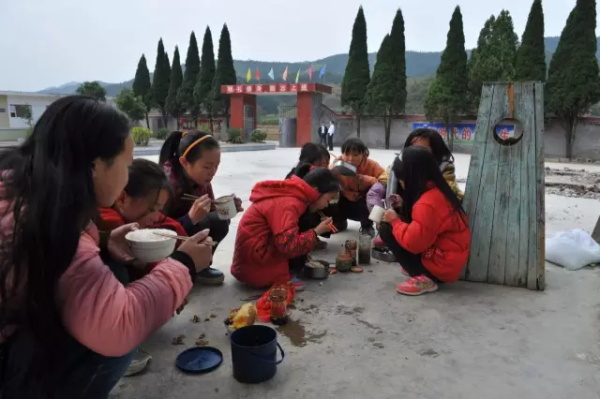 Children had lunch together, sharing different chili sauce and preserved vegetable.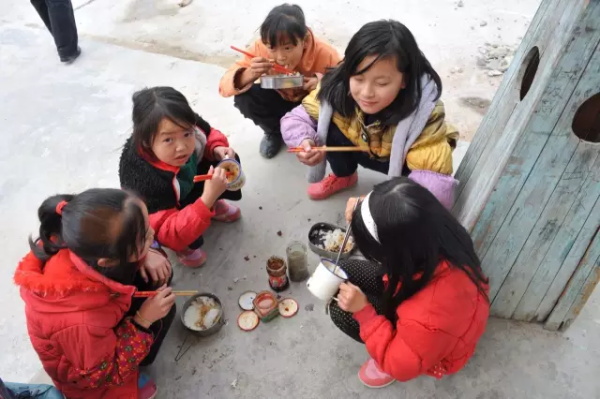 Without FLFC, what children ate was such simple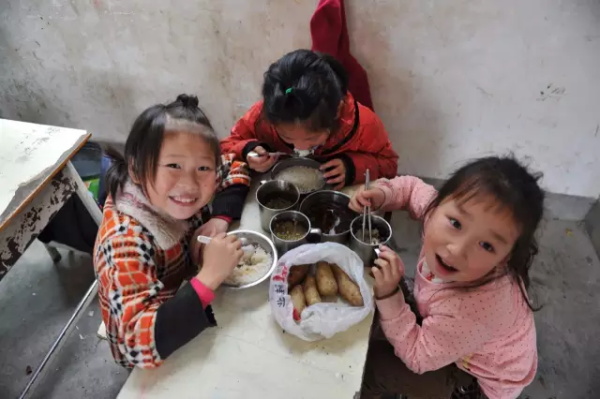 Our lunch might not be delicious enough,
but we were happy as we shared with each other.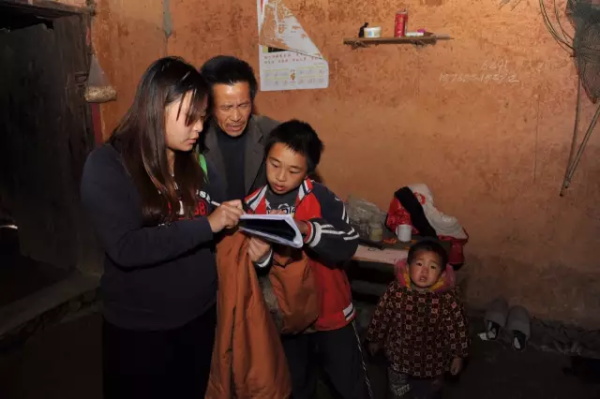 A volunteer paid a visit to children's home.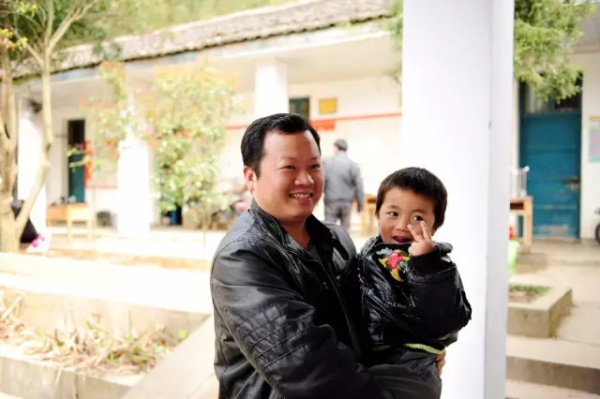 A FLFC volunteer and a village child
Jing lin primary school's principal who had taught over 30 years was nearly to retire. He said, as long as children could have free lunch, he would ask for help of the bureau of education, the country government, and the village commitee to deal with the problem of school's facilities. Owing to his effort, the bureau of education offered funds to build a canteen and caring people donated facilities including the sterilizer, the ice cuber, the water heater, the boiler, the gas-cooker and so on, which created a new mode that the school, government, and FLFC joined together.
▼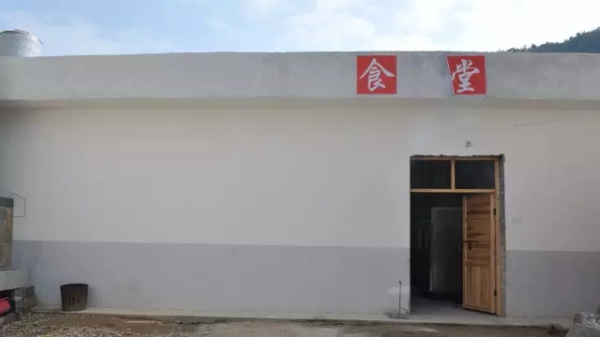 The canteen built by government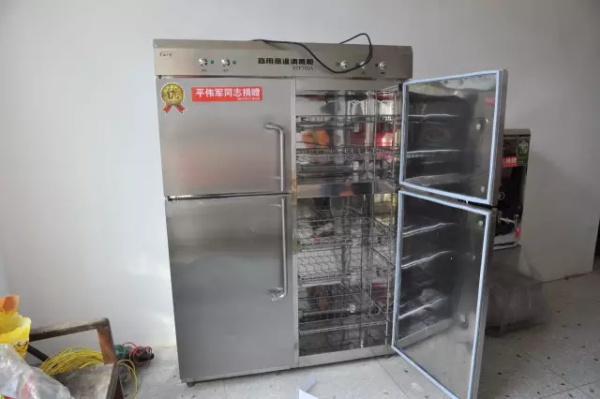 The sterilizer donated by local caring people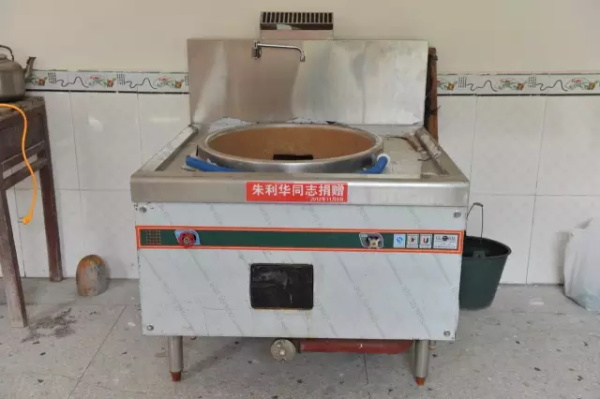 The gas-cooker donated by local caring people
Finally, with all people's effort, Jing lin primary school started offering free lunch in March 13, 2013. Children said goodbye to lunch without nutrition and had hot meals that were nutritious and delicious. As a result, children were pleased and parents were relieved.
▼
We finally had free lunch.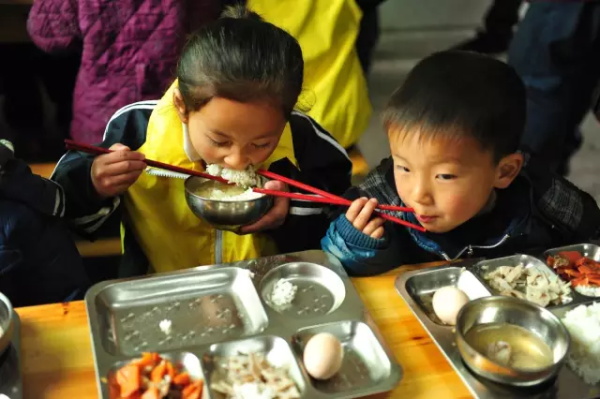 Goluptious, steaming, nutritious meals with meat and eggs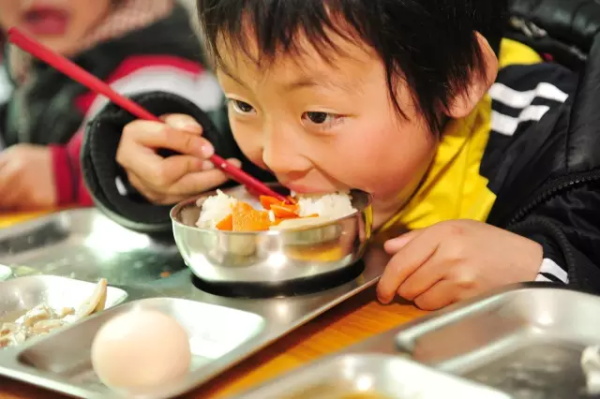 I swobbled my lunch. How palatable the meal was.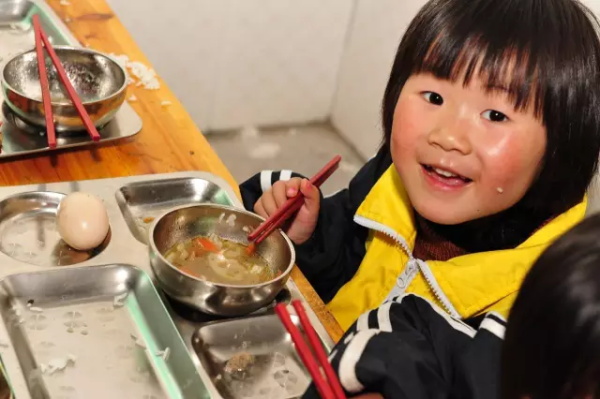 Look, I finished off my lunch.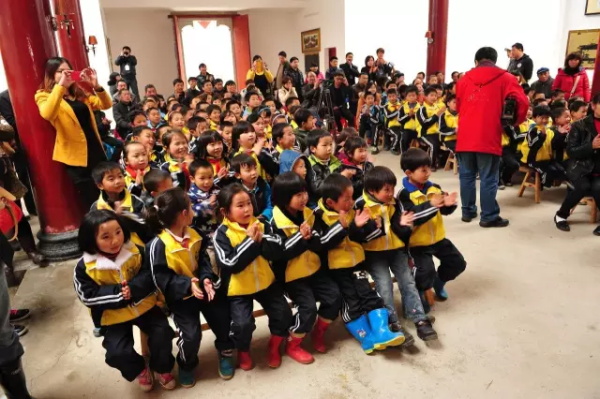 Welcome! Uncles and aunts.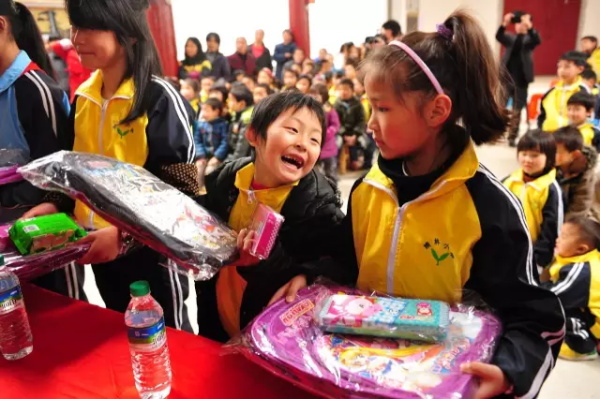 Not only free lunch, but also new bags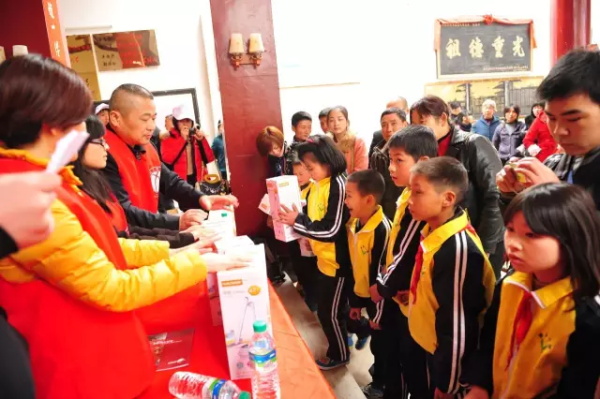 Thanks for uncles and aunts sending eyes protective lamps for us,
we would study carefully.
● ● ●
Photography|Min Yuexiang
A volunteer of caring home association in Jiujiang city,
Jiangxi province. He is "Mingyue brother" who pays attention to children's life in countries with his camera.