图文编辑:朱婧怡、陈逊竹
责编:邓艳、周功武、刘鑫、高利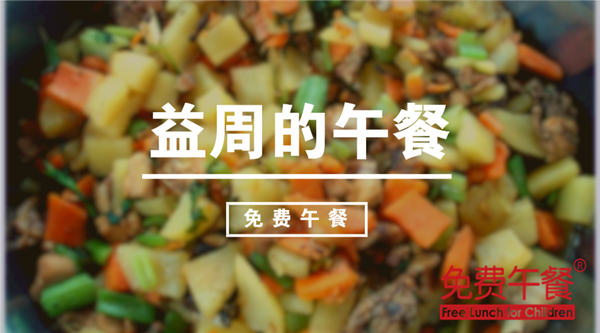 Niu Niu has went to a lot of schools - new buildings, wide playgrounds, clean canteens -- in which there are lively children coming and going.
Niu Niu can feel their inner happiness when seeing the children's flower-like smile.
Meanwhile, Niu Niu can never forget various unique and delicious food from those schools wherever Niu Niu is on her trip.
Despite that tastes vary from north to east and food differs everywhere, our cooks are always trying to offer rich dishes to support the growth of our children -- because we firmly believe that children in the countryside should enjoy a balanced diet and a plenty of food like their urban peers. And what makes our efforts meaningful is feeding the children as well as please them.
Teachers and cooks are always feeling proud when seeing their students enjoying the meals with good appetite.
So here Niu Niu would like to show you the most welcomed dishes by the children.
And you can tell us if you are interested in any dishes, Niu Niu will ask the cooks for the recipes.
Dishes below are chosen from lunches of last week, during which there was a Tomb-sweeping Day break, so we offered lunches from April 5th to April 7th.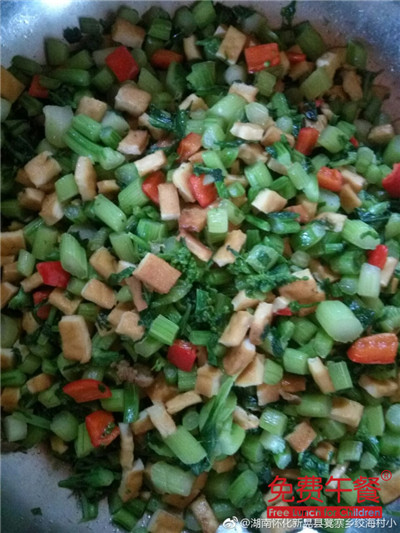 Wednesday
Jiaohai Village Primary School of Dengzhai Town, Xinhuang County, Huaihua, Hunan Province
Cabbage with fried tofu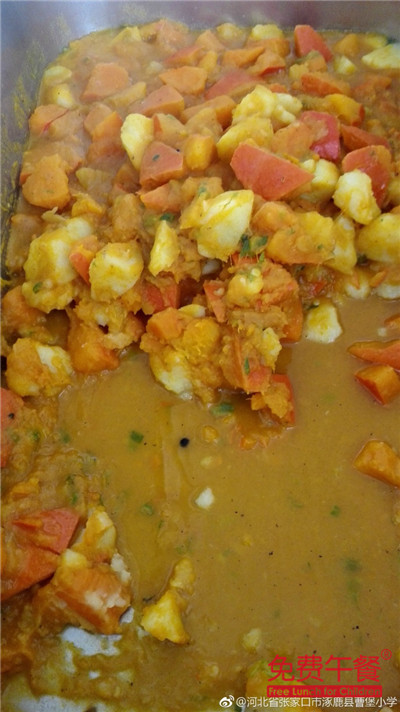 Wednesday
Caobu Primary School of Zhuolu County, Zhang jiakou, Hebei Province
Pumpkin with potato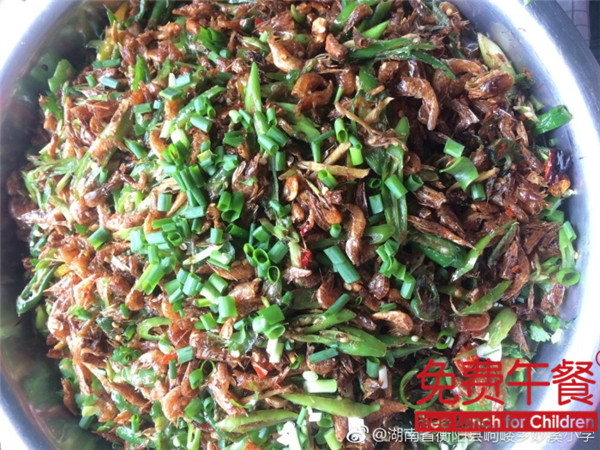 Wednesday
Miaoxi Primary School of Goulou Town, Hengyang County, Hunan Province
River shrimp with green pepper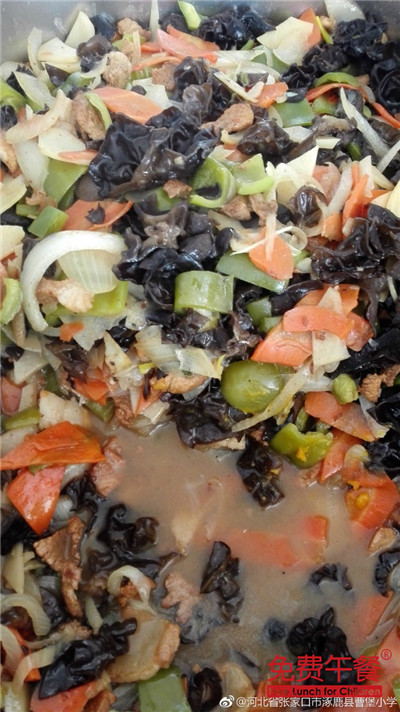 Wednesday
Caobu Primary School of Zhuolu County, Zhang jiakou, Hebei Province
Green pepper, potato, edible tree fungus cooked with meat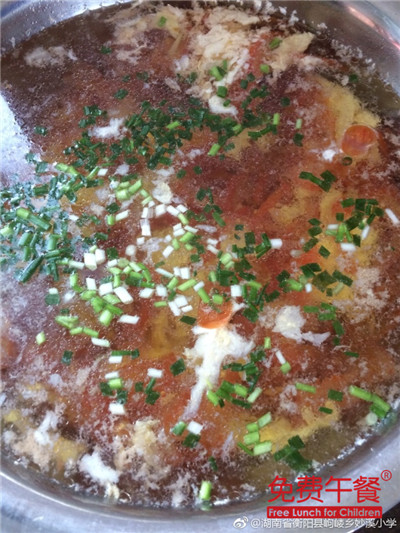 Wednesday
Miaoxi Primary School of Goulou Town, Hengyang County, Hunan Province
Tomato and egg soup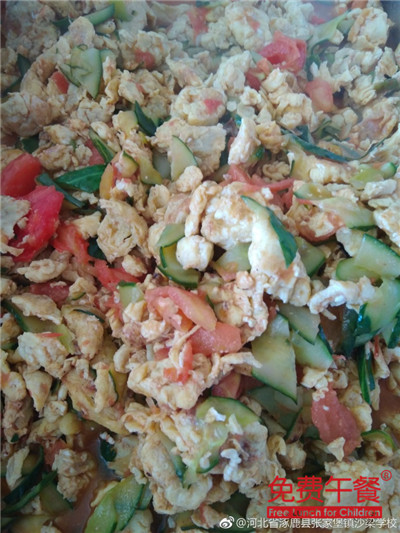 Thursday
Shaliang Primary School of Zhang jiabu Town, Zhuolu County, Hebei Province
Tomato, cucumber cooked with egg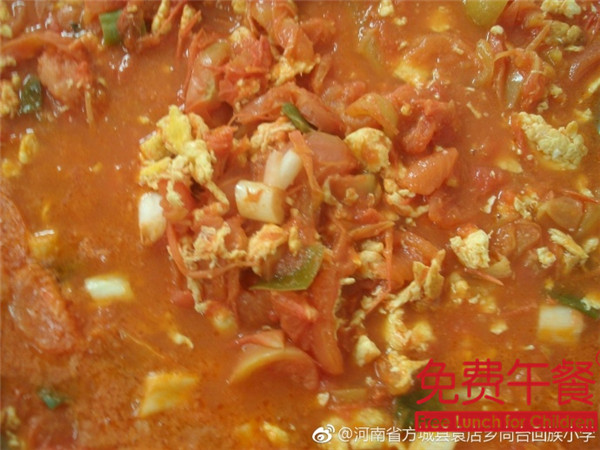 Thursday
Shangtai Primary School for the Hui nationality of Yuandian Town,
Fangcheng County, Henan Province
Tomato with egg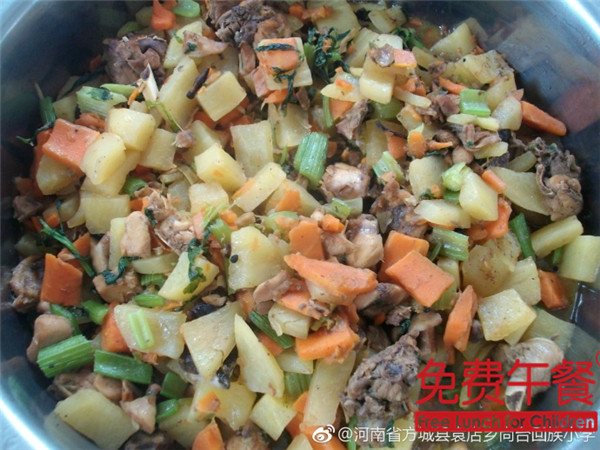 Thursday
Shangtai Primary School for the Hui nationality of Yuandian Town,
Fangcheng County, Henan Province
Potato, carrot, dried mushroom, celery cooked with chicken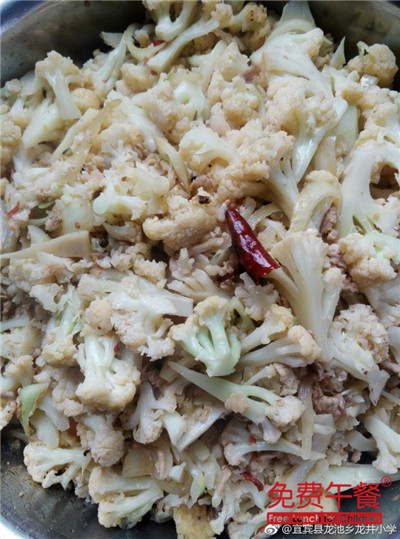 Thursday
Longjing Primary School of Longchi Town, Yibin County
Simply cooked cauliflower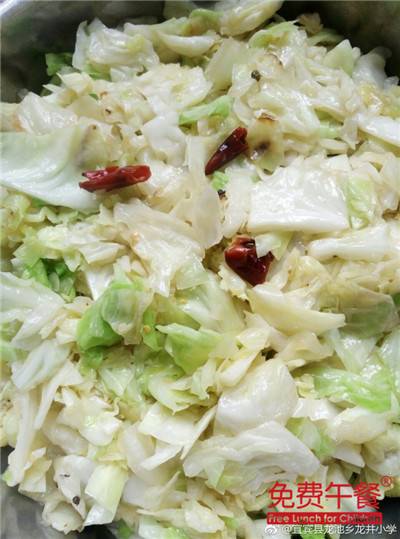 Thursday
Longjing Primary School of Longchi Town, Yibin County
Sour and spicy cabbage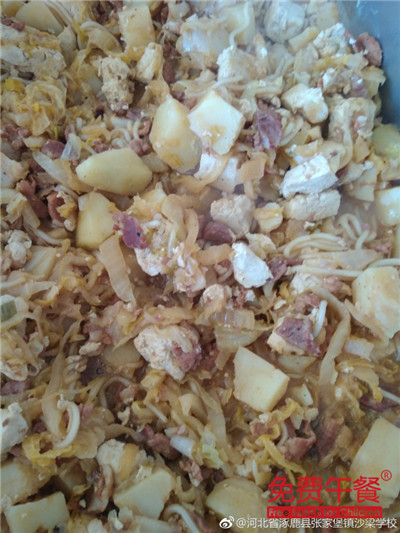 Thursday
Shaliang Primary School of Zhang jiabu Town, Zhuolu County, Hebei Province
Stewed vegetables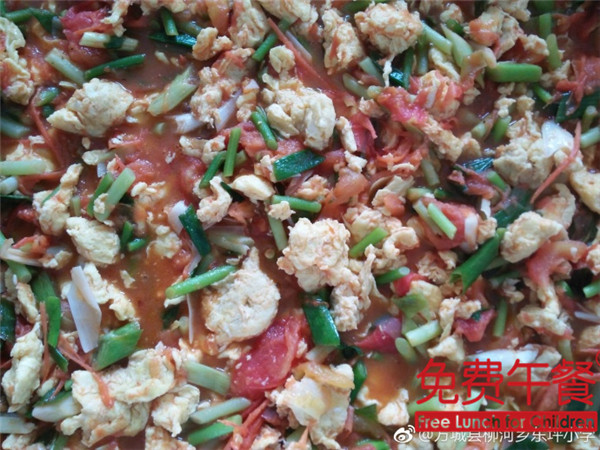 Friday
Dongping Primary School of Liuhe Town, Fangcheng County
Young garlic shoot, tomato cooked with egg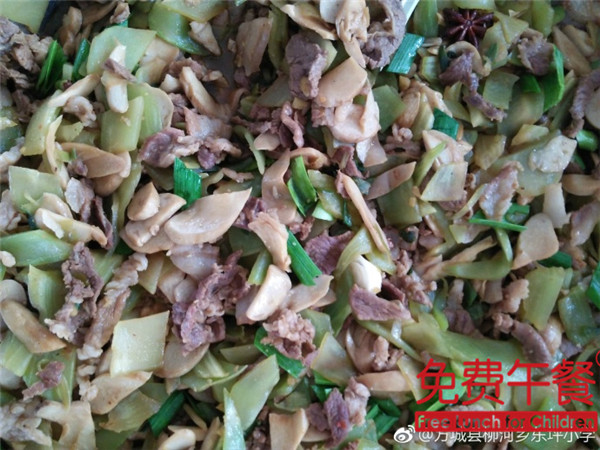 Friday
Dongping Primary School of Liuhe Town, Fangcheng County
Lettuce, pleurotus cooked with meat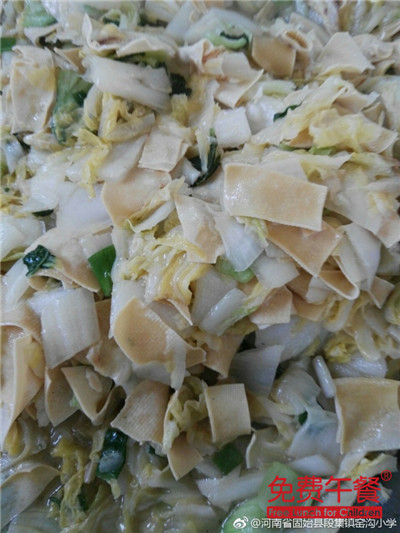 Friday
Yaogou Primary School of Duanji Town, Gushi County, Henan Province
Cabbage with tofu skin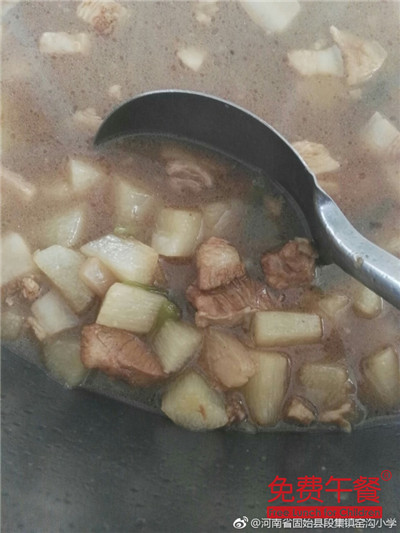 Friday
Yaogou Primary School of Duanji Town, Gushi County, Henan Province
Stewed Chinese yam with meat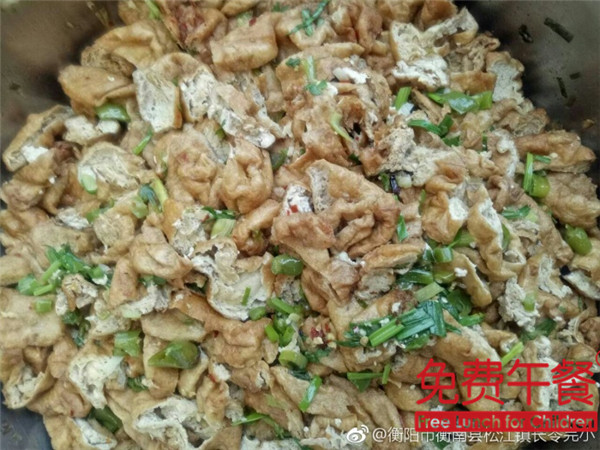 Friday
Chang lingwan Primary School of Songjiang Town, Hengnan County, Hengyang City
Fried tofu with shredded pork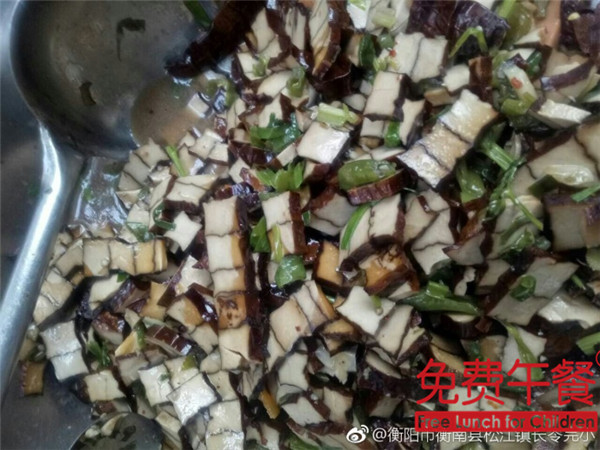 Friday
Chang lingwan Primary School of Songjiang Town, Hengnan County, Hengyang City
Red-cooking dried bean curd with green pepper