How "red" are they?
So red are they that you can spot them in a crowd

So red are they that the color becomes part of their life
They either shout and wave in the grandstand wearing the red Guangzhou Evergrande Taobao Football Club jersey, or visit rural schools in red FLFC T-shirt to see how lunch has been served.

They are the ones that compose the FLFC Guangdong Executive Team.
Although the average age of the team was 45, the members of FLFC Guangdong enjoy soccer and volunteering, which render their life no less vibrant than the youth. Now, let's get to know these Guangdong folks through three Cantonese songs.
Start-up: The Camaraderie In The Past
"Today, we stand side by side again; at this moment, the old friendship is renewed; exchanging one glance, we feel the warmth from each other's eyes. (from song Current Situation)"
—— Leslie Cheung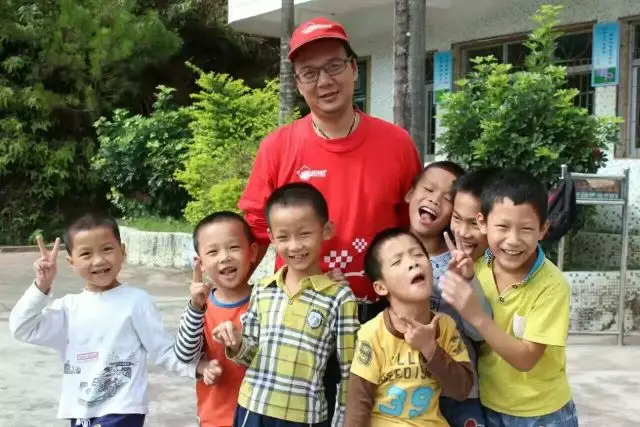 Ye Jianxin with children
Ye Jianxin, born in the 1970s has a primary profession in printing industry and part time job as a manic fan of Guangzhou Evergrande Football Club.
Family and Evergrande Football Club fulfilled his life until a bookmark allowed Free Lunch for Children to insert in. In the fall of 2011, a friend of Ye Jianxin asked him to print a copy of bookmark and owing to the bookmark, he realized that in the countryside many kids had to walk to school in the early morning and studied in hunger because they were unable to have a hot meal for lunch. Fortunately, Free Lunch for Children was initiated this year.
As a father, Ye Jianxin was deeply moved and printed the bookmarks gratis out of generosity. It was the start of his relationship with FLFC, but he did not conceive then that the bonding would change the life of his fellow football fans as well.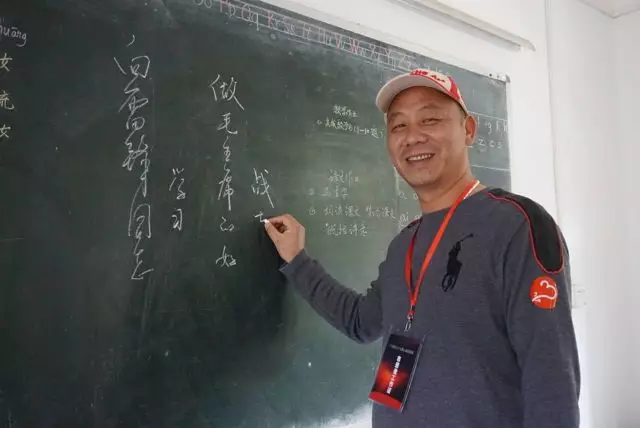 Zhang Hong wrote a message on blackboard
Zhang Hong was the first among the group to join Ye Jianxin. He was astonished when he learned on TV that during winter children in Huaiji, Zhaoqing, Guangdong had only slippers to wear and that the cold turned their toes red.
Therefore, Zhang Hong contacted Ye Jianxin immediately as he saw the school in Huaiji, Zhaoqing began to provide free lunch, and wished to do something for kids by participating in FLFC.
While Zhang talked about joining FLFC in a meal with Ye, another football fan, Wang Zhiyong was attracted by their action and decided to visit the school with Ye Jianxin next time.
Zhou Haonien (left) and Wu Ruiqiang "in class"
Afterwards, Ye Jianxin recruited his old classmate Zhou Haonien and fellow football fan, and Wu Ruiqiang Wang Zhiyong invited his friend Luo Yonghao. In this way, FLFC Guangdong developed its members gradually.
A group of friends with a brand-new goal. The old friendship is renewed at this moment.
Actions: Hesitate No More
"One day dream will realize and idea world in the heart be found, eventually. "
——Beyond
Each member started to show his prowess after becoming a FLFC volunteer.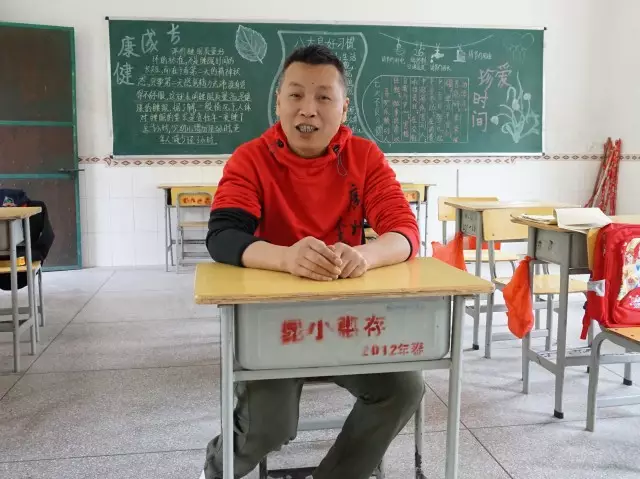 Wang Zhiyong in a classroom
The considerate man, Wang Zhiyong is good at uncovering problems besides lunch. In 2015, he discovered that children in Xu An Primary School stood next to the dining table in cafeteria and the shorter ones had trouble reaching dishes. Back to Guangzhou, Wang purchased more than a hundred chairs and delivered them to school so the kids could sit and eat.
Zhou Haonien, a pizzeria owner in Kezhou Guangzhou, plays an important role in promoting FLFC. He places FLFC bookmarks and pamphlets in his restaurant, educates employees about FLFC, and attaches a FLFC bookmark to every customer. If a customer is interested in the project, a clerk will help him/her donate.
Luo Yonghao, on the other hand, is a strong reaper of volunteers. He first recruited his younger sister and then his wife and daughter. In December 2016, the Luos took part in a hiking organized by the FLFC Guangdong College Student Team. Thanks to his persistence, not only Luo's friends, but also his friends' friends are impacted. Once the boss of Luo's friend saw Luo's advocate and donated a batch of notebooks right away.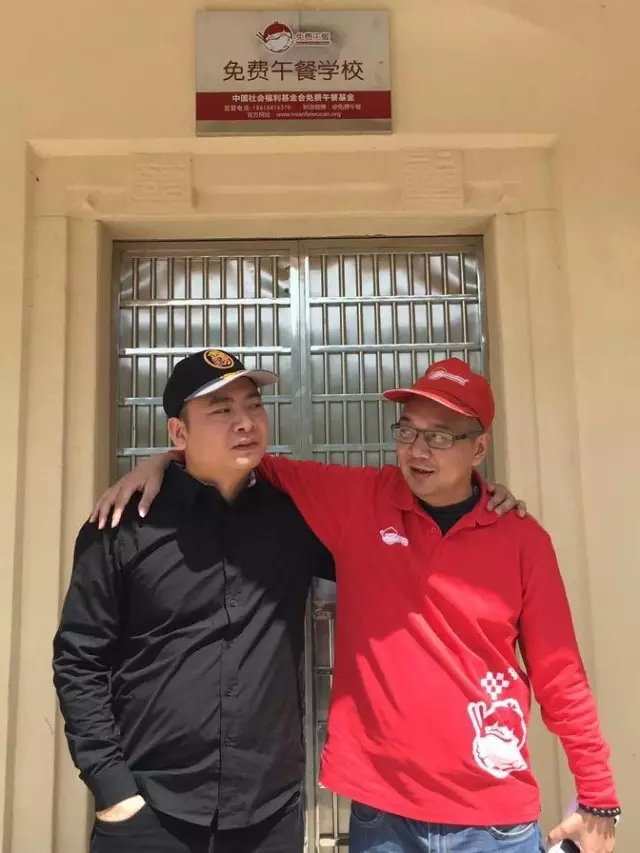 Wu Ruiqiang (left) and Ye Jianxin in front of FLFC school
Wu Ruiqiang is the seasoned driver in the team. A sense of urgency often preys on him after he becomes a volunteer. The more he investigates, the more he understands the hardship that kids face, the more his heart aches for them. Therefore, Wu drives hundreds of miles despite lumbago to look for schools that meet the requirements of FLFC, helps accumulate data and makes contacts in the hope that the starved kids can have free lunch.
Dreaming is certainly not a privilege of the youngsters, proved by these old guys who are unwilling to give up dreaming. They all hope that children in their hometown obtain sufficient nutrition and enjoy every meal. Hesitate no more as dreams will realize one day. The ideal world in our heart will be found eventually.
On the Road Together: The Red Sun
"Since when you become my companion and resonate passionately with me like the blaze of the red sun ignites true me. With your company, we can cross mountains over mountains."
——Hacken Lee
Free Lunch has changed childhood jeopardized by hunger and these keen volunteers.
It is impediment out of doubts that has impacted Ye Jianxin.
When Ye Jianxin introduced FLFC to his friends, someone in the fan club questioned overtly "(If) we donate 3 yuan to FLFC, how much will you get?", which infuriated him so much that he wanted to curse. On second thought, however, Ye realized that it was because misunderstanding existed that he needed to clarify the mission of FLFC.
Friends around him report that Ye has been very different from the past. The previously short-tempered, straightforward guy turns patient and kind.
It is the smile of children that has changed Wang Zhiyong.
According to Wang, 2016 was a slump for him; misfortunes came from both profession and family. He felt melancholy for a while, but as he thought of the little children who had not had a full, hot meal for lunch, or struggled in a family of sick, disabled, elderly people and still smiled and laughed, he regained confidence to overcome difficulty.
From 2015 on, Wang Zhiyong is on his way to FLFC schools on every birthday, which becomes a special event to celebrate his birthday.
In the past, they hanged out by chatting about football or playing mahjong. But now they have Free Lunch for Children to care about and their life style is gradually influencing more people around them.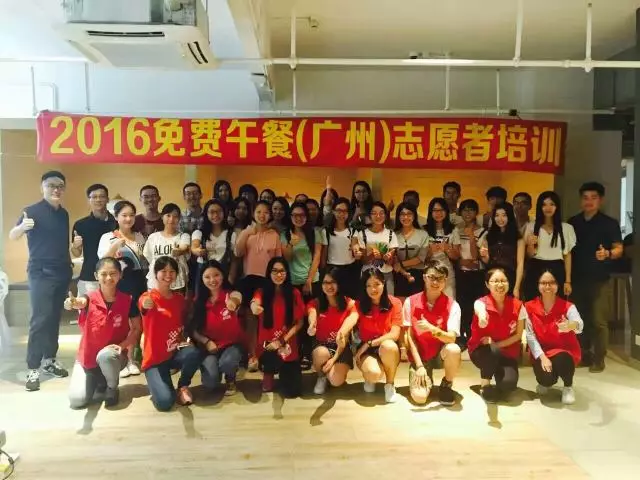 These elderly citizens fond of red clothes resemble the blaze of the red sun, travel together on the road of volunteering and cross thousands of mountains.
Assembled like fire, scattered like a myriad of stars. The sentence refers not only the guys in Guangdong Executive Team, but also others that support and care about FLFC. You are the lucky stars that feed the starving kids.
FLFC Little Kindness Great Love
-End-

Fei Media
Review:Deng Yan, Zhou Gongwu