In FLFC Funds,
There is a mysterious group…
When completing tasks,
They use pseudonyms.
They are only allowed to talk to the superior authorities,
Nobody else knows where they are and where they are going.
They spend at least ten days/month on the way,
Traveling back and forth 5000 kilometers,
And mountains are the most common place they appear.
Who are they?
What are they doing?
Take a look at this video first ▼▼▼
The sound appears in the video belongs to Yun Ke(alias). We all call him "Huzi Brother." Besides Huzi Brother, four other friends are also travelling back and forth between the schools that receive help from FLFC in deep mountains, and cities.
They are the members of FLFC Supervising Center.
What is Supervision in this case?
It is the most important way to supervise the work of the cooperating schools: checking the schools randomly, truly knowing the status of the schools' lunch, and giving feedbacks of the executing state, making sure of the food's safety and the proper use of raised funds.
Supervision content:
1. Environment of the kitchen, quality of the food, executive order, financial condition, student satisfaction, comparing, important issues of the school etc.
Supervision purpose:
2. Mainly to understand the condition of the cooperating school's food safety, elevating the notion of safety, making sure of food safety.
3. Checking the use of FLFC donated funds, forbidding the loss of funds, elevating the trust of donators.
4. Providing strong evidence for whether FLFC should continue working with this school.
We'll be talking about supervisor Huzi Brother's story.
He used to be a soldier, but then became a professional artist.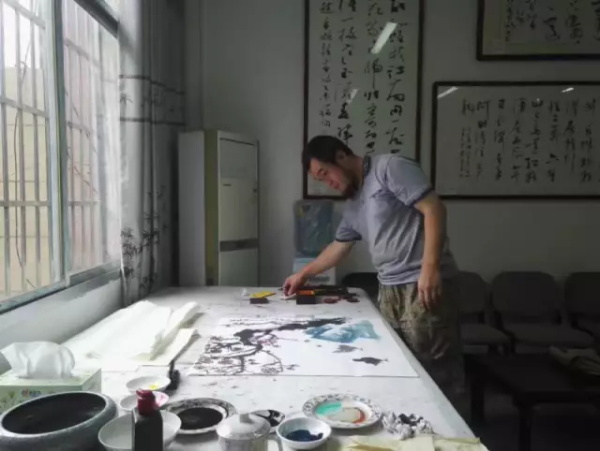 Huzi painting at home
How does a professional artist start his career as a supervisor?
This should all start with June, 2011. The current supervisor of the Supervision board of FLFC, Yang Bozhi (one of the 500 initiators of FLFC, who used to be the committee member of the First FLFC Fundation), held "2011 Charity Forum" in Human University. He spoke about funding for village children's lunch, and that inspired Huzi Brother to do charity.
In 2012, his wife became a member of the Supervision board of FLFC. Huzi Brother wanted to do the same thing. He first became a volunteer. In May, 2014, Huzi Brother followed his wife to the Supervision Board, officially became a member and started his career as a supervisor.
However, the way of supervision, is not easy to follow…
The daily routine of a supervisor is:
Going out every month,
Spend more than ten days visiting 5-7 schools.
Supervising work
Gouxi Elementary School in Zhongzhai county, Xinhuang, Hunan Province
The report is due the beginning of next month, ready for supervising work again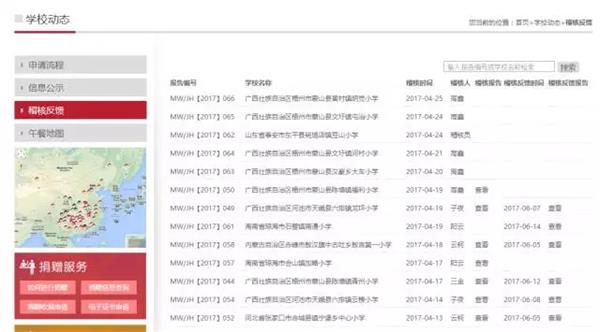 Sreenshot of the reports
During the period when supervisors visit schools, the basic principle as follows:
He can't ask for help from local government and volunteers, and he can't require to be picked up or driven back.
He can't notice anyone (including colleagues). If needed, he must make an appointment, and can only meet after being approved.
He can't post any pictures on social media, making sure that the event is totally secretive.
He can't use his real name when arrived at the schools, but to use alias.
All behaviors that might lead to failure are not allowed. Using randomly checking strategy, he must show his ID when visiting schools, and he can thus enter the school.
Therefore, every time visiting the cooperating school is like a lonely journey;
But it's more like a lonely meditation,
Because…
On the way to Guizhou Bijie city, after the rain, the road is very muddy and people can only pass through near the road.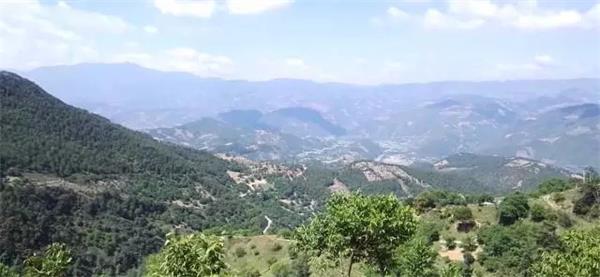 After crossing a hill, on the way to Yunan province, Yang Bi county, Huzi Brother thought he was close to school. However, the actual distance to school is still 4 kilometers. The total distance is 16 kilometers.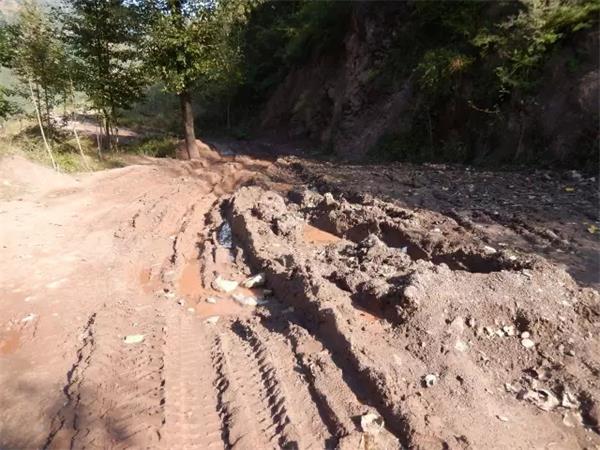 On the way to Sichuan province, Liangshanzhou meigu county, Hexiangdaluo village—muddy road.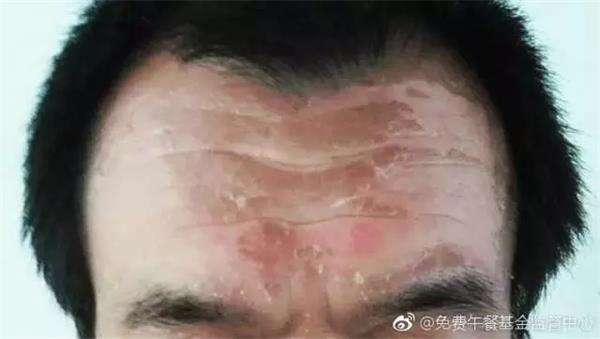 Huzi Brother got sun burned from ultraviolet. As a result, his surface skin came off.
Most cooperating schools of FLFC are located in mountain areas, far away from the city. Usually, there is no direct transportation to get there. Since it would cost too much to rent a car, Huzi Brother always choose to walk there.
Although Huzi Brother always schedules his route in advance, he sometimes gets lost when meeting a fork in the road. Even when he asks the people who live in the village, since they don't have a clear concept of how far it is to the school, they usually tell him it's about two or three kilometers far when it is actually ten kilometers far. In addition, the GPS doesn't work well sometimes, so that Huzi Brother can only count on his luck and keep going forward.
One time, Huzi Brother walked about forty kilometers that he finally arrived at the school. When we are proclaiming about how hard this work is, Huzi Brother laughed and replied: This is nothing comparing to his life back in the military when they walked way more than forty kilometers. Supervisors walk to the schools is telling both the schools and FLFC workers that the money that we spend are the donations and we can't spend them prodigally.
However, Huzi Brother also met something that made him upset. In March, 2014, when he was still a volunteer, he went to Liangshanzhou Meigu county, Waguxiang Center Elementary School to do supervising work. The location of this school was very remote, Huzi Brother could only walk up the mountain since there was no transportation to take. It was raining and wind-blowing, the country road circled the cliffs. Huzi Brother was walking very slow, and he arrived at the school at twelve thirty. The lunch was already over when he arrived. After eating several roasted potatoes, he started to do supervise work.
However, he didn't get to see the children eating their lunch, so he could not write a report. This supervising work can only be cancelled, and Huzi Brother had to come again. When he was about to leave, a teacher from the school helped him call a taxi, but the taxi didn't come after a long time.
Huzi Brother decided to keep going down although he was tired already. When he almost got to the bottom of the mountain, a car caught up from behind and asked if he had called a taxi, and the driver was asking Huzi Brother to pay for the ride. Huzi Brother was very confused: he didn't get on the taxi, why did he have to pay for it? The driver said that he can't come here for nothing. If Huzi Brother would not pay for the ride, he would go to the school to ask for the money. Didn't want to cause any trouble for the school, Huzi Brother paid the fee.
These years, from volunteers to official supervisors, Huzi Brother crossed many mountains and went to many cooperating schools of FLFC. He always takes some pictures on his phone as to remember.
Yatang village, Xinhuang county, Huaihua city, Hunan Province, village cadre helped to carry water from far away in order to make lunch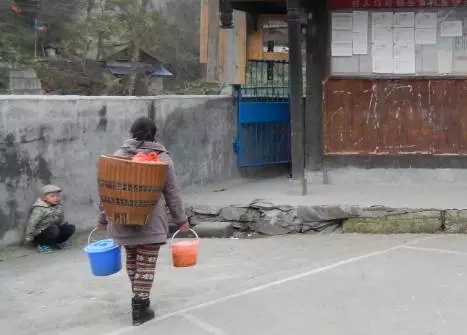 Wongcao village, Morong county, Xiangxi, Hunan Province, a student made his lunch at home and walked about 3900m to bring to school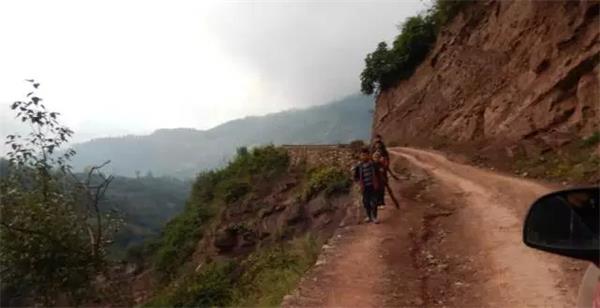 Haluo Elementary School, Meigu County, Liangshan, Sichuan Province, the student is carrying woods that are used for making fire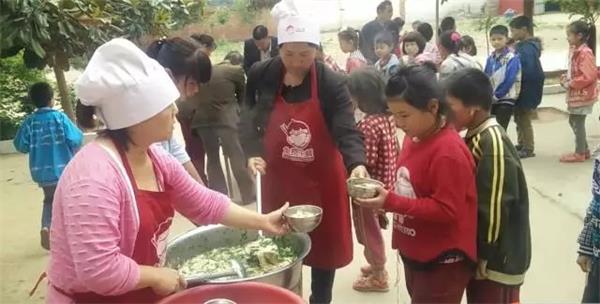 A picture from Magou Elementary School, Henan Province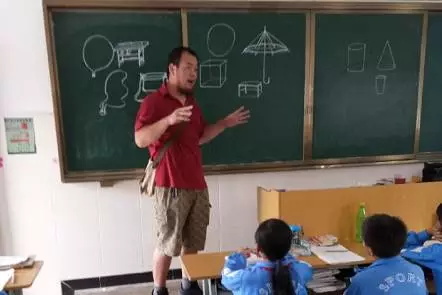 Huzi Brother is teaching the kids art after doing supervising work
When we asked what makes Huzi Brother persistent doing supervising work, he said that he thinks this is a meaningful work; he likes to walk in the mountains, where has no noise like the city; he likes to walk in nature, although there might be hardships, but when he finally sees the children eating, he still feels happy. If he can, he wants to continue this work.
Huzi Brother is only one member of the supervising team. This team is the guardian angel of FLFC. Because of their existence, the food safety is ensured, and children and eat warm lunch. Because of their existence, the use of donation is ensured, and children would each get 4 Yuan for their lunch. Because of their existence, the FLFC continues to function normally.
For the children, no matter how far the road is, how difficult the process is, they are always ready to leave. Crossing most part of China, crossing the mountains and rivers, they are walking on the way of supervision steadily.