Brilliant smiles lead you to the simple country ,like into a pure world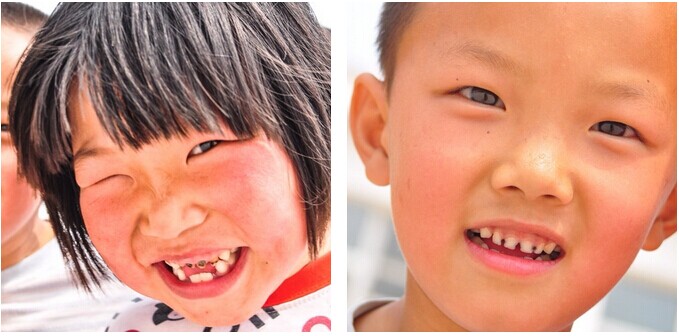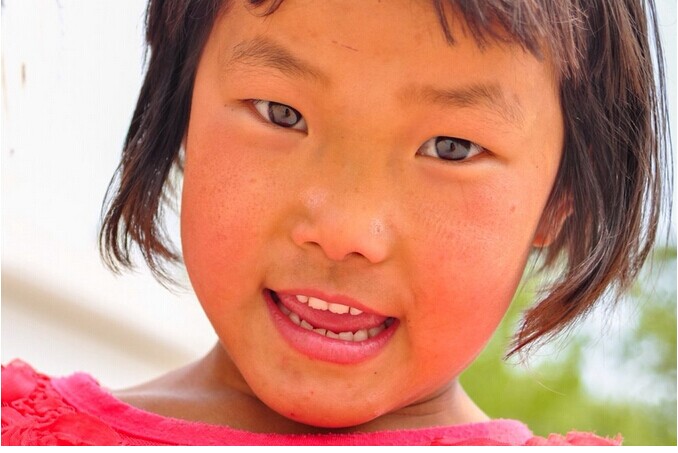 The school silhouette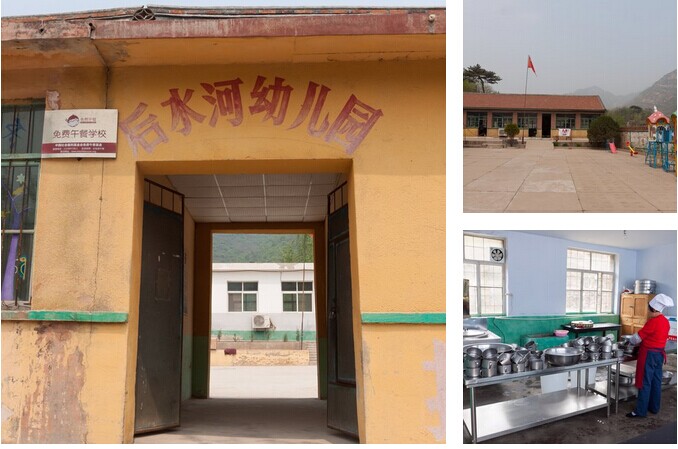 Lunch time ~tasty meal~expectant eyes ~satisfied smile ~being moved by these ~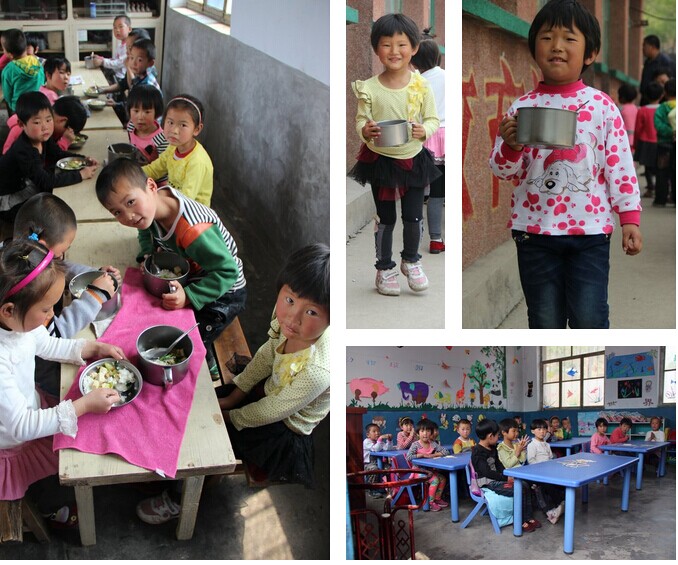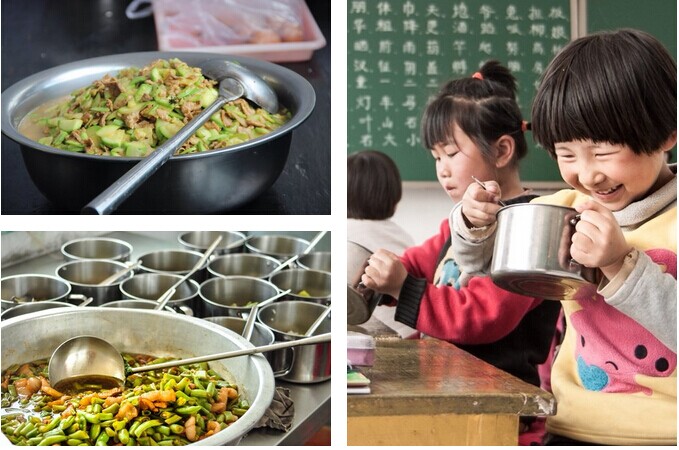 Are you moved by the children 's smiles when they received the caring little schoolbags ?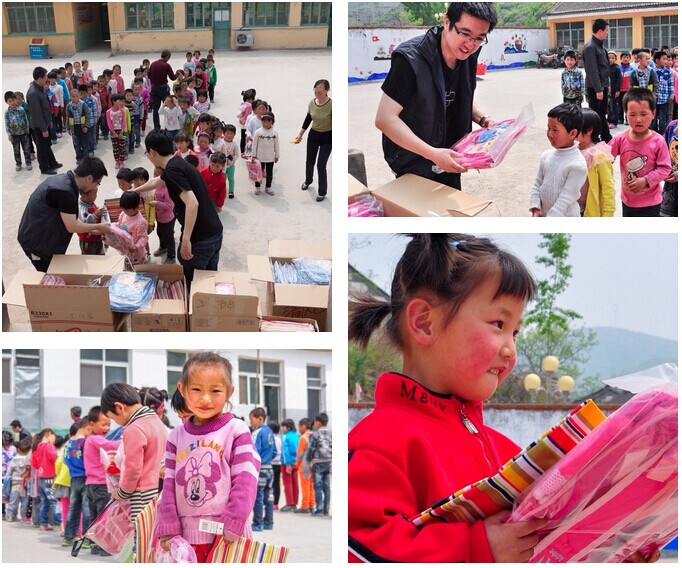 We want to make the beautiful moment an eternity ~
Summary of the visit to Houshuihe primary school /Shichengzi primary school in Qinghuangdao City :
1. Time . We left the Jingha expressway toll station at 6:50 a.m.,arrived in Qidaohe country at 10:40 a.m..We got to school at 11:30 a.m. and left at 1:10 p.m.. About 5:30 p.m.we reached Tongzhou . We didn't have traffic jam on the road that afternoon ,except when we approached Beijing .
2. Progress .We visited the kitchen facilities , watched how children had their meals --started eating ,drank soup/water and returned basins . Then we distributed schoolbags to the children ,communicated with school leaders about financial problems and the existing difficulties ,took a group photo .
3. A brief summary of the visit :
* The school environment .Although two schools don't had large playground ,they both had a yard for activities . They both had new and old classrooms with complete teaching tools which looked fine .
* The actual number of people ,according the data of distributing schoolbags . In all ,we carried 163 sets of stationery ,actually distributed 73(62+11) sets to Houshuihe primary school and 85(77+8) sets to Shichengzi primary school .11 and 8 is the number of absent students that schools said .
* Kitchen facilities and hygiene . The condition of hygiene was fine ,tableware was clean ,cook's clothes were clean too . They had complete facilities like cauldron ,liquefied gas stove and so on .
* The quality of meal. They had a meat dish and a vegetable dish for lunch ,the same as we had expected (a fired bean curd and a bean fired meat /pumpkin stir fired meat ).
* The order and environment of dining . Every class received meals in order and each child had clean stainless steel tableware . Children would return to their classrooms and eat in their own seats after they had received their meals .
* Food feedback . All children said that the meal was delicious and they could eat full . It seemed that the meal met the standard of three Yuan .
* Financial problem . Each month Free Lunch would check out with schools ,and schools did not know the general ledger between enterprises and free lunch program . At present ,the cost every month is 3 yuans for every child and 800 yuans for every cook .
1. Difficulties existing in primary school
* Lacking fridges for refrigeration ,they merely have a large freezer at present .
* Lacking disinfecting cabinets , can only use large steamers instead .
* Shengchengzi primary school had an audio-visual classroom ,but it had only one computer with bad effect .Houshuihe primary school had no audio-visual facility ,it needed build some .
1. Other things
* Two primary school both had a plan to tear down a row of old classrooms and build some new ones. Shengchengzi could carry it out this year and Houshuihe would carry it out next year .
* There were also some other volunteer teams donating and carrying out events in the school ,such as the former activities that held by newspaper office ,etc . The schools also mentioned that China Mobile could build the network for them .
* These two schools were still applying free lunch for more surrounding schools .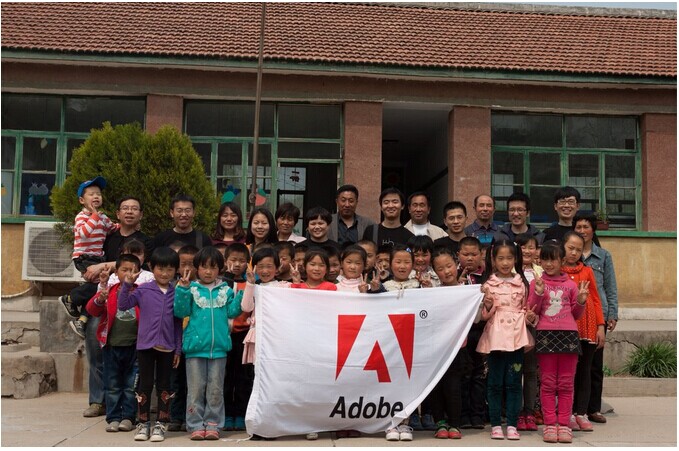 Share the visiting experience :
On April 23rd, we a line of six people visited a primary school that Free Lunch Program supported——shichengzi primary school in Qidaohe country ,Qinglong Manzhu Autonomous County ,Qinghuangdao City . The school located on a small hill . The small rusty iron gate together with three school buildings surrounded and shaped like a small Chinese character "凹". The primary school could only supply with education before three grade because of various hardware and software problems . In all ,it had 86 students ,which included 40 preschool students . The first grade and second grade students each accounted for about 20 students . In addition ,there were 6 teachers and an aunt who prepared for children's lunch .
It was lunchtime when we arrived at school .Students were lining up in the playground and looking forward to their lunch:a Pumpkin Stir Fired Meat ,a Soy Brainy Tofu and a Seaweed and Egg Soup . Because school did not have enough rooms ,only preschool students had their own dining rooms ,first grade and second grade students had to eat in the classrooms . In the progress of serving meal ,we noticed that some students said "less dishes !". Later after we had asked the teacher , we knew that it was a habit . These students almost were left-behind children ,they lived far away from school . Some of them even had to climb across a mountain to go to school and it took them more than two hours on their way to school . So they often only had streamed buns and pickles for lunch . Although they had had free lunch for nearly half a year ,they were still not accustomed to eating rice with so much dishes .
Do you know that the standard of free lunch is 3 Yuan every meal for each person ? With only 3 Yuan ,you can support a child in poor mountainous area with a hot lunch .
Please ask ourselves , do we waste three Yuan today ? Do we waste my lunch today ?!