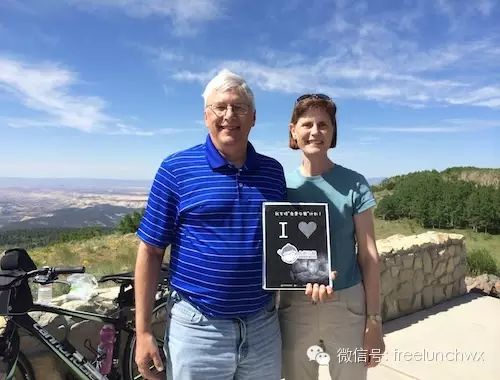 When we were biking around, we met a lot of people and heard about their stories. Meanwhile, we told them about "One Way" and "Free Lunch". Though we come from different countries and cultures, charity doesn't have national boundaries. These people who come from different countries express their cares of charity and support "Free Lunch" in the same way.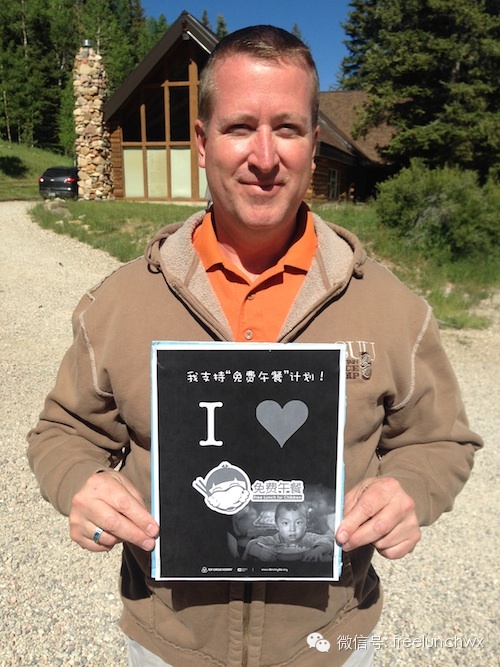 He is a 48 years old primary school teacher. As a Mormon propagator, he visited China very often and speaks Chinese fluently. He said that it's the fate to meet "One Way" in the mountains.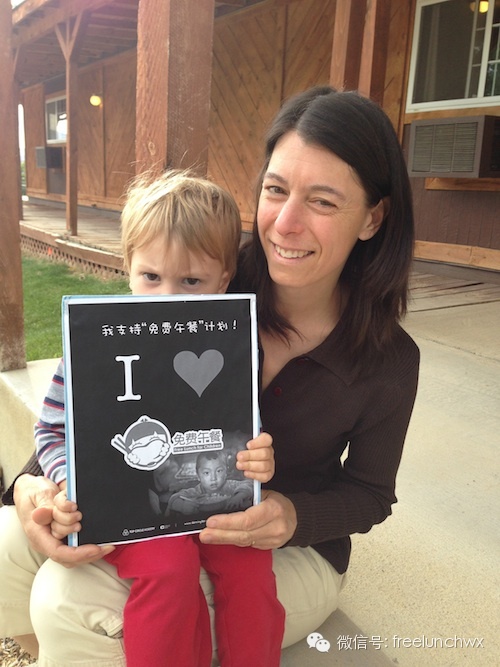 She is also a primary school teacher who was born and grown in the U.S. She got married and moved to Italy a few years ago. She said she and her son would definitely support "Free Lunch" for the children's sake.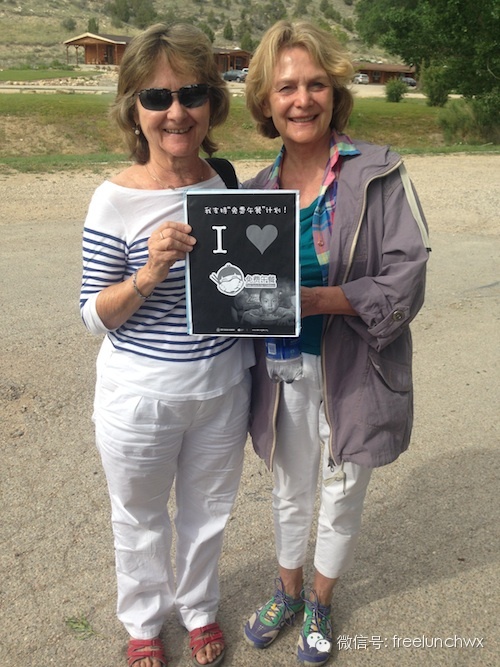 They come from Israel, and had organized biking donation in Maryland. They said there were more than 300 people participated and they collected about 6000 dollars.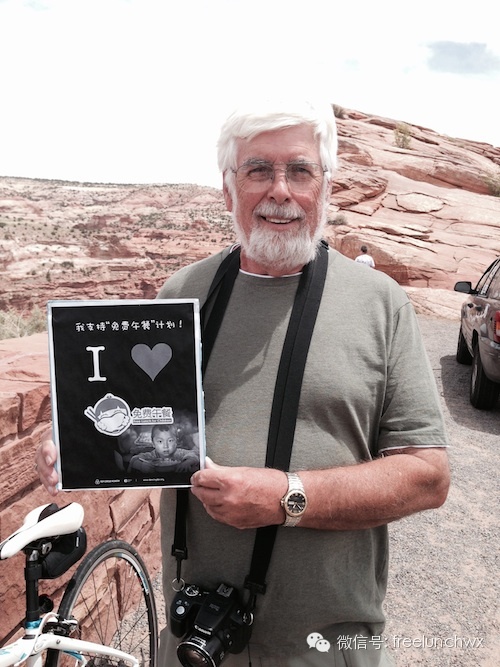 He is a retired photographer from Florida. He is travelling by car in the U.S. with his wife. He asked us to take pictures with him. He said he wants to record the story of "One Way".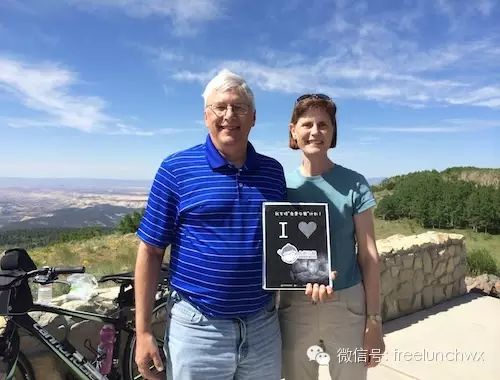 They are a couple from Ohio; the husband is lawyer who fights for patents. He had a Chinese name "Ci Weiquan" which means to use words to protect patents.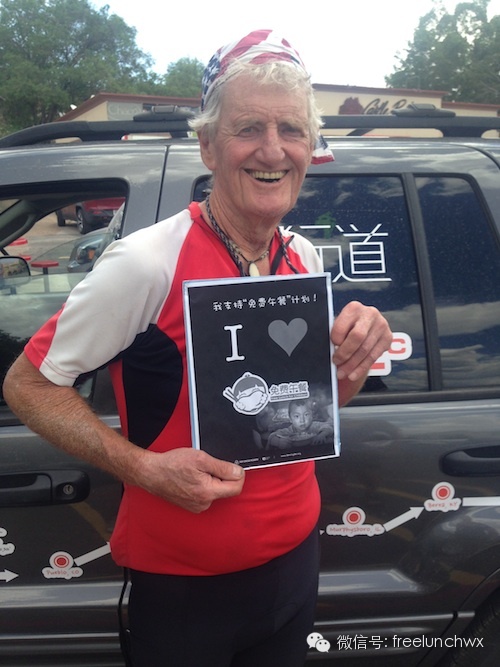 He is 73 years old now, and this is his third time to bike across the U.S. He said this route is really difficult to ride. We did a great job!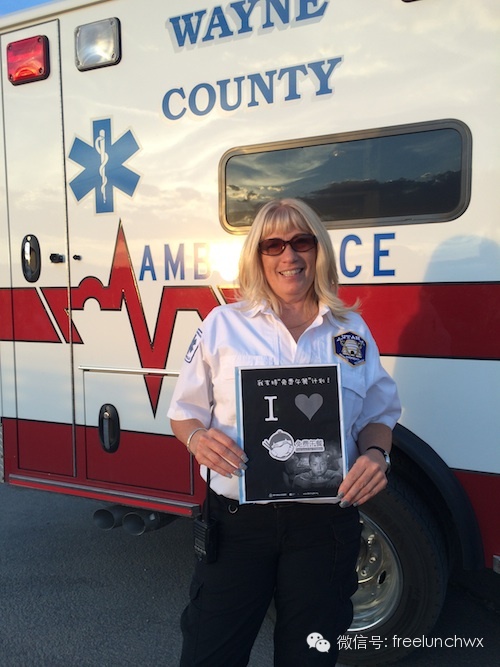 She is 52 years old. She owns a trailer store in small town in Utah, and is also the leader of the emergency team in the town. She was an alcoholic when she was young, and got married at age 16. Now her oldest granddaughter is already 10 years old. After marriage, she and her husband moved from a big city to a small town, opened the trailer store and having a peaceful life. She said that after age 25 the time flies extremely fast, and suddenly turn to 50.
They are staffs from the nursery team in a town Hanksville in Utah. At this small town that the population is smaller than 100 people, there is no hospital. The nursery team is the only organization that offers medical support. Because the local government doesn't have medical budget, all the staff in the nursery team are volunteers. They said it's actually hard to get the medical proof, but it is worth to do that.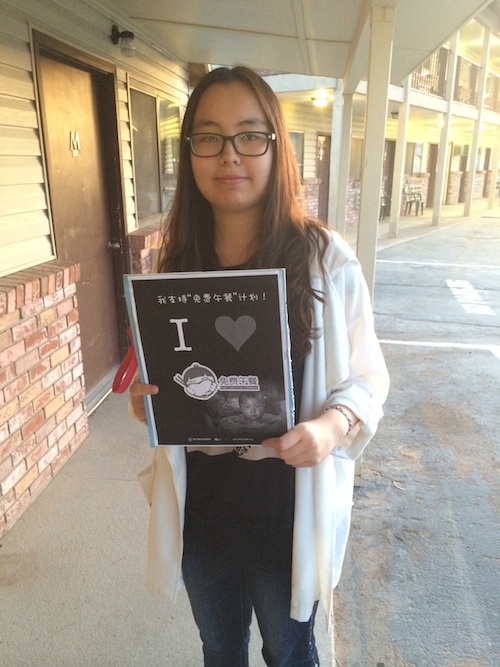 She is a first-year college student from China. This summer she chose to leave the megacity Beijing and stay in this small town that the population is smaller than 100 people. She is doing a summer internship in a motel here. She said she was looking forward to see Chinese these days, and it was nice to see us!
__________________________________________
"One Way" is a charity that started by some Chinese students who study abroad. We want the oversea students support Chinese charity by actions. This summer we collaborate with "Free Lunch" and help the poor children to get free lunch.
【Website】www.danxingdao.org